The seventh GP of the 2029 World Sidecarcross Championship was held this weekend at the brilliant track at Kiviõli in Estonia.
The weather was cooler on race day with rain overnight and a strong breeze during the day. It kept the dust under control and was a better temperature for the riders.
In Race 1, Hermans/Musset took the holeshot and held on for a fantastic win. Behind Sanders/Kunnas held second from Dierckens/Bax, with Bax/Stupelis in fourth.
Dierckens/Bax were on top form and blasted past their rivals to take second and then were soon challenged themselves with Bax/Stupelis fighting hard to move into second, but couldn't catch the leading team.
Dierckens/Bax held third but there were strong challenges from behind. Vanluchene/Van Den Bogaart fought through and pushed hard to blast ahead leaving Dierckens/Bax in fourth with Sanders/Kunnas close behind. Varik/Daiders had a safe race in sixth staying a safe distance ahead of Brown/Chamberlain.
Unfortunately #4 Giraud/Haller had mechanical problems and struggled off the gate. They immediately pulled into the pit box for repairs and were back out before the rest of the pack had completed the first lap, but the problems continued and they retired before the end of the race.
J Brown/Millard had a midfield start and a steady race to take 14th.
Kinge/Gray were behind Giraud/Haller on the start so had a slow getaway but fought through to take three great points.
In Race 2, Dierckens/Bax took the holeshot, there were many teams fighting hard to get past. Vanluchene/Van Den Bogaart tucked into second with Hermans/Musset behind and there was a three-way battle with Hermans/Musset blasting past both teams to grab a second victory.
Dierckens/Bax stayed ahead for most of the race despite Vanluchene/Van Den Bogaart being on their rear wheel, but with just two laps remaining Vanluchene/Van Den Bogaart moved ahead and took second position. Dierckens/Bax took third with Bax/Stupelis fighting hard despite passenger Kaspers having a broken hand.
Sanders/Kunnas took fifth just ahead of Van Wernen/Beunk and Brown/Chamberlain.
J Brown/Millard had another great race to take thirteenth. Kinge/Gray were just a few places behind.
Bax/Stupelis retain the red plate, with Vanluchene/Van Den Bogaart staying second just 25 points behind. Hermans/Musset took maximum points today and holds third. Sanders/Kunnas move into fourth with Dierckens/Bax now fifth.
In three weeks the championship moves to the deep sandy Markelo track in Holland.
We will keep you updated on all the action.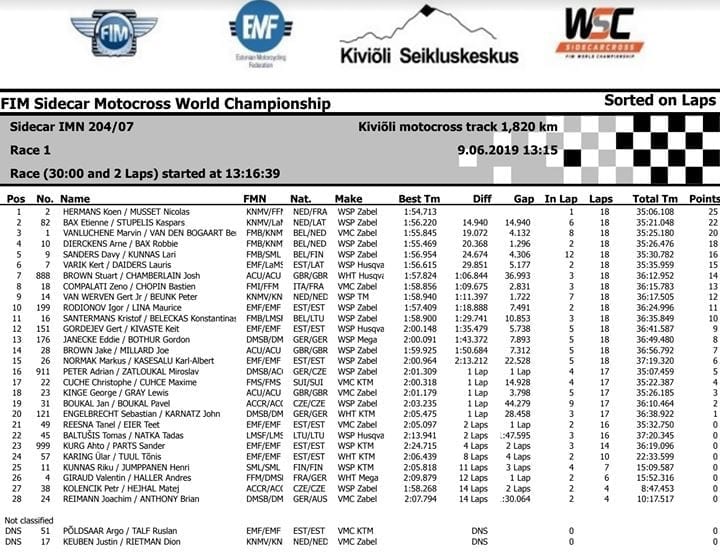 Sidecarcross Standings 2019 (After GP 7 Kivioli)
| Pos. | No. | Names | Nat. | Points |
| --- | --- | --- | --- | --- |
| 1 | 82 | Etienne Bax-Kaspars Stupelis | NL-LV | 294 |
| 2 | 1 | Marvin Vanluchene-Ben van den Bogaart | BE-NL | 269 |
| 3 | 2 | Koen Hermans-Nicolas Musset | NL-FR | 256 |
| 4 | 9 | Davy Sanders-Lari Kunnas | BE-FI | 216 |
| 5 | 10 | Arne Dierckens-Robbie Bax | BE-NL | 208 |
| 6 | 888 | Stuart Brown-Josh Chamberlain | GB-GB | 176 |
| 7 | 4 | Valentin Giraud-Andres Haller | FR-DE | 175 |
| 8 | 7 | Kert Varik-Lauris Daiders | EE-LV | 164 |
| 9 | 18 | Zeno Compalati-Bastien Chopin | IT-FR | 145 |
| 10 | 14 | Gert van Werven-Peter Beunk | NL-NL | 137 |
| 11 | 111 | Daniel Willemsen-Luc Rostingt | NL-FR | 129 |
| 12 | 16 | Kristof Santermans-Konstantinas Beleckas | BE-LT | 101 |
| 13 | 17 | Justin Keuben-Dion Rietman | NL-NL | 88 |
| 14 | 28 | Jake Brown-Joe Millard | GB-GB | 79 |
| 15 | 22 | Christophe Cuche-Maxime Cuche | CH-CH | 78 |
| 16 | 23 | George Kinge-Lewis Gray | GB-GB | 74 |
| 17 | 5 | Julian Veldman-Glenn Janssens | NL-BE | 70 |
| 18 | 19 | Marco Heinzer-Ruedi Betschart | CH-CH | 45 |
| 19 | 911 | Adrian Peter-Miroslav Zatloukal | DE-CZ | 35 |
| 20 | 98 | Ijen Kops-Pim Lambrechts | NL-NL | 32 |
| 21 | 36 | Michael Hodges-Scott Grahame | GB-GB | 25 |
| 22 | 26 | Markus Normak-Karl-Albert Kasesalu | EE-EE | 23 |
| 23 | 21 | Pavel Hroch-Martin Hroch | CZ-CZ | 22 |
| 24 | 31 | Jan Boukal-Pavel Boukal | CZ-CZ | 21 |
| 25 | 38 | Petr Kolenchik-Matej Hejhal | CZ-CZ | 20 |
| 26 | 49 | Tanel Reesna-Teet Eier | EE-FR | 20 |
| 27 | 176 | Eddie Janecke-Gordon Bothur | DE-DE | 19 |
| 28 | 151 | Gert Gordejev-Keit Kivaste | EE-EE | 18 |
| 29 | 46 | Tobias Blank-Lemuel Ravera | DE-IT | 18 |
| 30 | 24 | Joachim Reimann-Philipp Reimann | DE-DE | 13 |
| 31 | 72 | Frank Mulders-Aivar van de Wiel | NL-NL | 12 |
| 32 | 199 | Igor Rodionov-Maurice Lina | EE-EE | 11 |
| 33 | 45 | Tomas Baltusis-Tadas Natka | LT-LT | 11 |
| 34 | 47 | Romaric Chanteloup-Josselyn Chanteloup | FR-FR | 11 |
| 35 | 99 | Thom van de Lagemaat-Han van Hal | NL-NL | 11 |
| 36 | 30 | Hotmar Pozzi-Simon Walti | IT-CH | 10 |
| 37 | 419 | Junior Verhelst-Nicky Debruyne | BE-BE | 9 |
| 38 | 101 | Lucas Cerny-Radek Musil | CZ-CZ | 8 |
| 39 | 116 | Willy Bouquet-Maxime Manach | FR-FR | 8 |
| 40 | 777 | Artur Glushchenko-Yelsei Hlushchenko | UA-UA | 8 |
| 41 | 32 | Gary Moulds-Steve Kirwin | GB-GB | 6 |
| 42 | 122 | Valery Zhyvutski-Andrei Zhyvutski | BLR-BLR | 6 |
| 43 | 94 | Kelly Debruyne-Jens Mans | BE-BE | 4 |
| 44 | 354 | Heiko Muller-Pirmin Hofmeier | DE-DE | 3 |
| 45 | 35 | Dylan Boussy-Alexandre Tourbier | BE-FR | 2 |
| 46 | 121 | Sebastian Engelbrecht-John Karnatz | DE-DE | 2 |
| 47 | 114 | Sam Osbaldiston-Nathan Cooper | GB-GB | 1 |
| 48 | 79 | Yohann Marquis-Theo Levenes | FR-FR | 1 |
Latest News