With the Wembley Arena finale of this year's Power Maxed Arenacross series done and dusted, it's well worth looking back on what was one of the best ever youth shootouts in the 65s.
Fro Systems pilot Shaun Mahoney lifted the title laying down a quite brilliant last two rounds, taking all four heat wins.
Before that though, this tasty little scrap was impossible to call. With the double-header in Belfast concluded just two points covered the top three runners. Ten-year-old Harvey Antrobus led the way, he was just a single point ahead of Mahoney with Zane Stephens (Judd Orange Brigade) in third.
Taking a closer look at the three leading amigos, Antrobus came into his first AX series with just three days indoors practice under his belt, that was at Wheelden Farm just before Christmas. Mahoney is a former BSMA Auto champion, he was fifth in last year's AX 65s, and maybe it was that extra bit of AX experience which enabled him to wrap the series up so comprehensively.
As for nipper ripper Stephens, he was coming off the back of a terrific Auto season where he'd claimed the LS Promotions Premier Cup Under 8s national title. And like Antrobus, he'd hardly turned a wheel indoors either.
Standing on the top step of the Wembley podium, Mahoney's third double race win of the series had brilliantly secured the crown for him. In the ultra-tight battle for series silver, Antrobus narrowly claimed it. Stephens, who was the youngest runner in the field, finished off at Wembley putting in an 8-3 show which meant championship bronze for him.
Catching up with Team Antrobus, that's Harvey, along with mum Natasha and dad Mitchell, TMX asked them about AX and the outdoors season to come.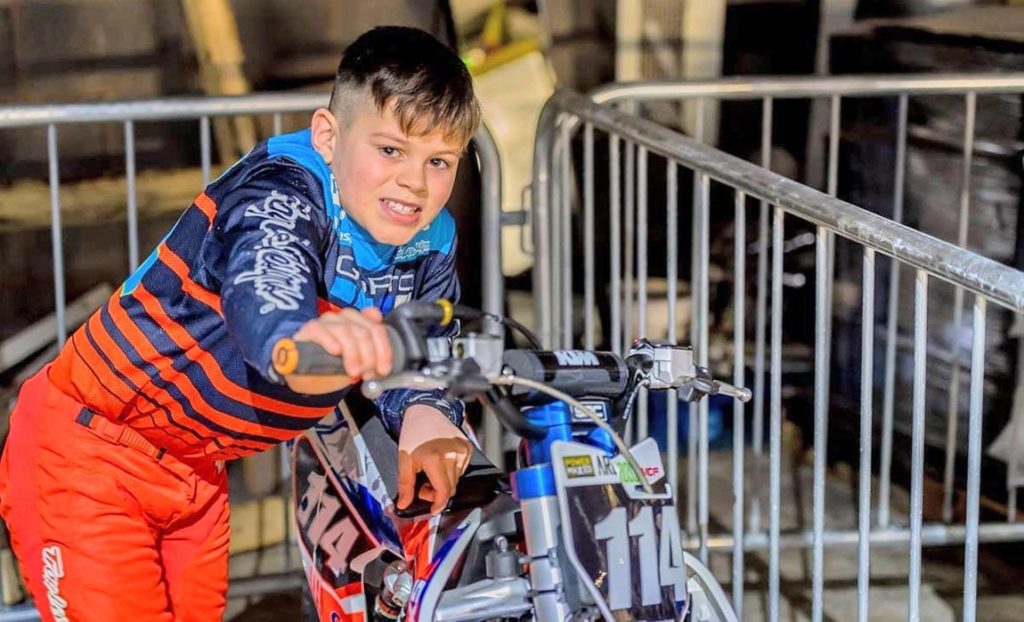 TMX: Hi Harvey, congratulations on all you've achieved in AX this year. Looking back, which was your favourite round and does any one single race stand out?
Harvey Antrobus: Taking the series lead with a double race win at round three in Birmingham makes that my favourite round. But at the opening Manchester round, in front of a brilliant noisy crowd, winning the evening race in my first live final was just awesome.
TMX: What if anything proved to be the most testing aspect to racing indoors? And what's the best thing about AX?
Mitchell Antrobus: Harvey is used to going fast outdoors, but watching him indoors I can see how much more he had to concentrate. Keeping it all as smooth as possible, totally focusing all the way to the race end, as one small mistake can be so costly. Harvey has said the best thing about AX was rubbing shoulders with the pro riders from all around the world.
TMX: Hi Natasha, How does Harvey relax away from racing?
Natasha Antrobus: Between races in the camper Harvey will relax watching a film or playing with the Xbox. When at home, he loves a bit of scootering or going to the skate park.
TMX: Following this year's new AX experience, are you now hooked on indoors racing Harvey? And has it given you fresh ideas for the future?
HA: Yeah, I think I am hooked. The buzz of AX is immense, the riding is so different to outdoors, I've definitely got the bug for it now. Next year I'll be on a Small-wheel 85, and that's a tough AX group to be in but I'd like to do it. And if we can, I'd like to get some more practice in beforehand too.
TMX: Looking ahead to the outdoor season – which championships are you going for?
MA: Being wet and cold, the outdoors season is going to be a bit of a shock to the system to begin with after AX. This year, Harvey is entered in the Judd KTM British Youth Nationals and the East Anglia club championship. As to a season goal, lets just enjoy what we love doing, at the same time aiming to improve on last seasons results. No pressure.
TMX: How did you get on outdoors last season Harvey? And when did you start racing?
HA: finished ninth in last year's BYN 65s, and sixth in the Judd Premier Cup championship. I was fifth at Master Kids UK and I won the East Anglia Junior title. I started riding at six, but didn't really start racing until I was seven.
TMX: It's your shout Team Antrobus – what would you like to say?
NA: As a family we are super proud of how far Harvey has come, especially in AX at his first attempt. He is absolutely dedicated to his sport, and in the main he enjoys most all of it.  It's all down to Harvey for getting to where he is at this level of riding, we as parents just believe in him and give him the opportunity and confidence to achieve it.
Harvey lives for MX, and now AX too, and he'd like to express his thanks to Mum, Dad, his family and sponsors.
And a special thanks to CBS Plumbing and Heating, Mark Woodage at MJW Tuning, Simon Kerr at CMP Race Wear and RSS Suspensions – thank you all very much.