Featuring numerous updates over their 2018 range in standard trim, the Six Days models are released in all engine capacities and finished in very cool ISDE colours.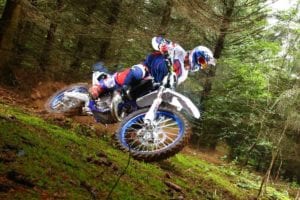 Updates across the board include suspension upgrades, a Selle Dalla Valle grippy seat, solid rear disc, different handlebar bend and blue Excel rims.
The SE-SD 250 and SE-SD 300 two-stroke are fitted with a FMF silencer, while the four-stroke models come with a full Akrapovic factory exhaust system.
Released in limited quantities, pricing and availability are available from your nearest Sherco dealer.