Here we explain how you can watch the High Point National for free this weekend as round four of the Lucas Oil AMA Pro Motocross Championship heads to the historic track near Mt. Morris.
The 50th Anniversary of the Lucas Oil Pro Motocross Championship, sanctioned by AMA Pro Racing, will make its East Coast debut for the fourth round of the 2022 season, with the sport's own long-standing Father's Day tradition.
The Lucas Oil Stabilizer High Point National is one of American motocross' crown jewels, with more than four decades of history that dates back to 1977 on the hallowed grounds of High Point Raceway, which sits nestled on the Holbert Family Farm in Mt. Morris, Pennsylvania, a mere mile from the West Virginia border.
The landmark 45th running of this storied event will take place on Saturday, June 18, with comprehensive live coverage that will be broadcast on MAVTV Motorsports Network and streamed exclusively for free on both MAVTV.com and MAVTVPlus.com.
After an impressive broadcasting debut that left the industry abuzz, AMA Motorcycle Hall of Fame Class of 2000 inductee Broc Glover will once again take a seat alongside host and lead commentator Jason Weigandt to provide key insight as an All-Star Analyst.
The six-time AMA National Champion and Southern California native became one of motocross' biggest stars in the late 1970s and early 1980s, thanks to his incredible success as a Yamaha factory rider and his trademark surfer look of blonde curls that helped garner Glover the nickname "The Golden Boy." His championship-winning seasons came over a stretch of eight years, beginning with a dominance of the 125cc division before progressing into a powerhouse 500cc rider. Glover amassed 35 wins over the course of his career, across three different divisions (125cc, 250cc, 500cc), and his six titles are second only to Ricky Carmichael.
HOW TO WATCH HIGH POINT NATIONAL

Race date: Saturday, June 18
Start time: 10:00 ET / 15:00 BST
First Moto: 13:00 ET / 18:00 BST
Last Moto: 16:00 ET / 21:00 BST
TV channel: MAVTV Motorsports Network (from 13:00 ET / 15:00 BST)
Live stream: MAVTVPlus
Highlights: Available below
Domestic coverage of the Lucas Oil Stabilizer High Point National in the United States will be anchored by exclusive live network coverage on MAVTV Motorsports Network, showcasing both motos for the 250 Class and 450 Class beginning at 10 a.m. PT / 1 p.m. ET. Additionally, live streaming coverage will be available for free to mobile viewers in both the U.S. and in countries all over the world, with all four motos showcased on MAVTV.com and MAVTVPlus.com. Coverage of qualifying will also be streamed live, with additional viewing available through the @AmericanMotocross YouTube channel, beginning at 7 a.m. PT / 10 a.m. ET.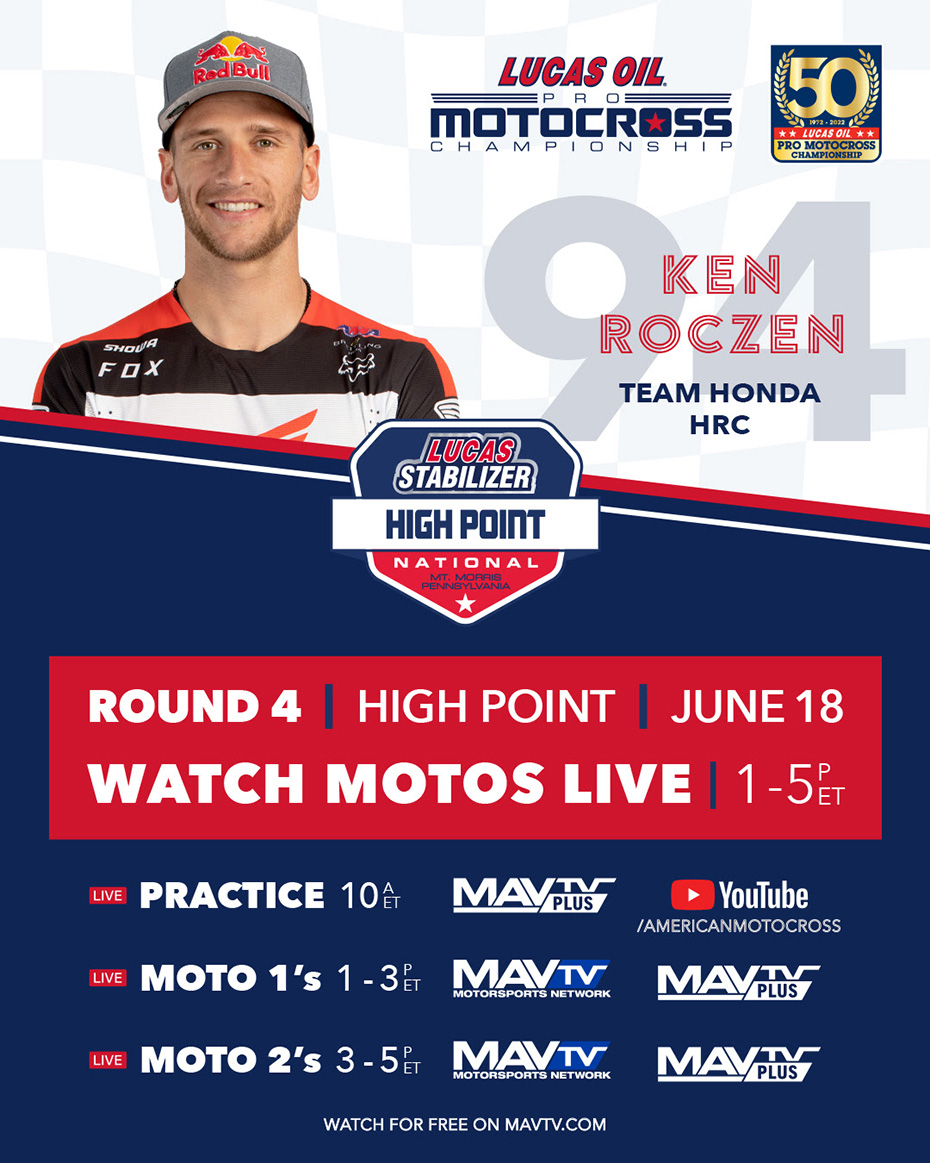 MAVTV MOTORSPORTS NETWORK U.S. BROADCASTS
Domestic television coverage from High Point will feature live broadcasts of the pair of motos for both the 250 Class and 450 Class on MAVTV Motorsports Network.
Saturday, June 18
250 Moto 1 | 10 a.m. PT / 1 p.m. ET | LIVE
450 Moto 1 | 11 a.m. PT / 2 p.m. ET | LIVE
250 Moto 2 | 12 p.m. PT / 3 p.m. ET | LIVE
450 Moto 2 | 1 p.m. PT / 4 p.m. ET | LIVE
Use the MAVTV channel finder to see if the network is available in your area. MAVTV Motorsports Network is available from most cable and satellite television providers, including DIRECTV, Fios by Verizon, Optimum, and Spectrum, and is also available from streaming services like Fubo TV, Hulu + Live TV, and YouTube TV.
STREAMING COVERAGE (DOMESTIC & INTERNATIONAL)
In addition to network coverage, fans in the U.S. and in countries around the world can stream all the action from High Point online for free through their smart TV, streaming device, or mobile device by logging on to MAVTV.com and MAVTVPlus.com.
Saturday, June 18
Qualifying | 7 a.m. PT / 10 a.m. ET / 14:00 GMT | LIVE (also on YouTube)
250 Moto 1 | 10 a.m. PT / 1 p.m. ET / 17:00 GMT | LIVE
450 Moto 1 | 11 a.m. PT / 2 p.m. ET / 18:00 GMT | LIVE
250 Moto 2 | 12 p.m. PT / 3 p.m. ET / 19:00 GMT | LIVE
450 Moto 2 | 1 p.m. PT / 4 p.m. ET / 20:00 GMT | LIVE
Press Conference | 2:15 p.m. PT / 5:15 p.m. ET / 21:15 GMT | LIVE
Note: British Summer Time (BST) is 1 hour ahead of Greenwich Mean Time (GMT), so for example, 450 Moto 2 is 21:00 BST
HIGH POINT TIMETABLE (EASTERN)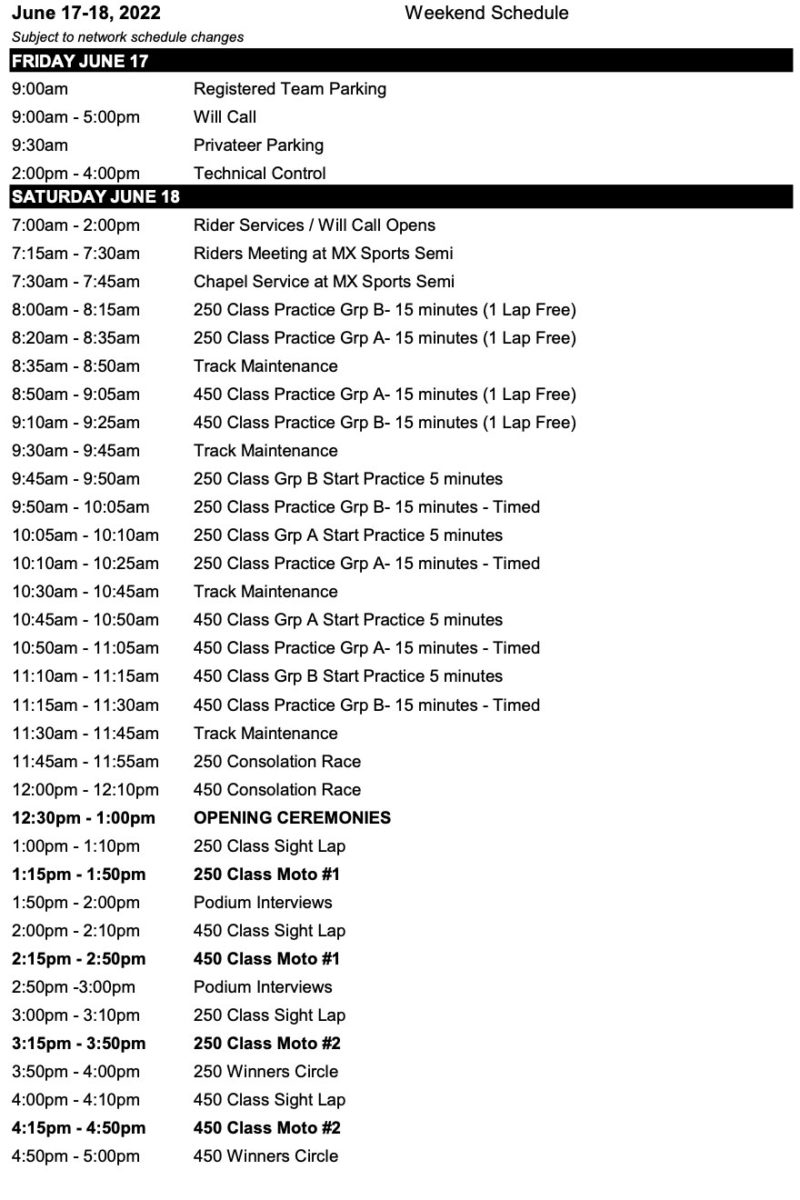 More AMA Motocross