Team Honda HRC had an up-and-down performance at RedBud MX, highlighted by second-overall finishes for Chase Sexton in the 450 class and Hunter Lawrence in the 250 division—both with 2-2 moto scores.
Ken Roczen managed a fourth place in 450 moto 1 and led moto 2 before the lingering effects of sickness caused him to slip to seventh place and fifth overall. Jett Lawrence's first 250 moto ended early with a mechanical issue, but he bounced back to win moto 2 for ninth overall.
Sexton completed lap 1 of the first 450 outing in fifth place, then moved up a spot at about the one-quarter mark. Lap 10 saw him get by his teammate (who had run in third for the first part of the race), and four laps later Sexton was by Joey Savatgy for second. He ended the moto six seconds behind Eli Tomac, with Roczen fourth. The German led the first 10 laps of moto 2 before his sickness caught up with him, and he slowly slipped to seventh. Sexton had started poorly, putting him sixth after lap 1, and he had a tip-over when he hit a fallen Jason Anderson. Nonetheless, he charged through the pack to second place by lap 11, again crossing the line just six seconds back.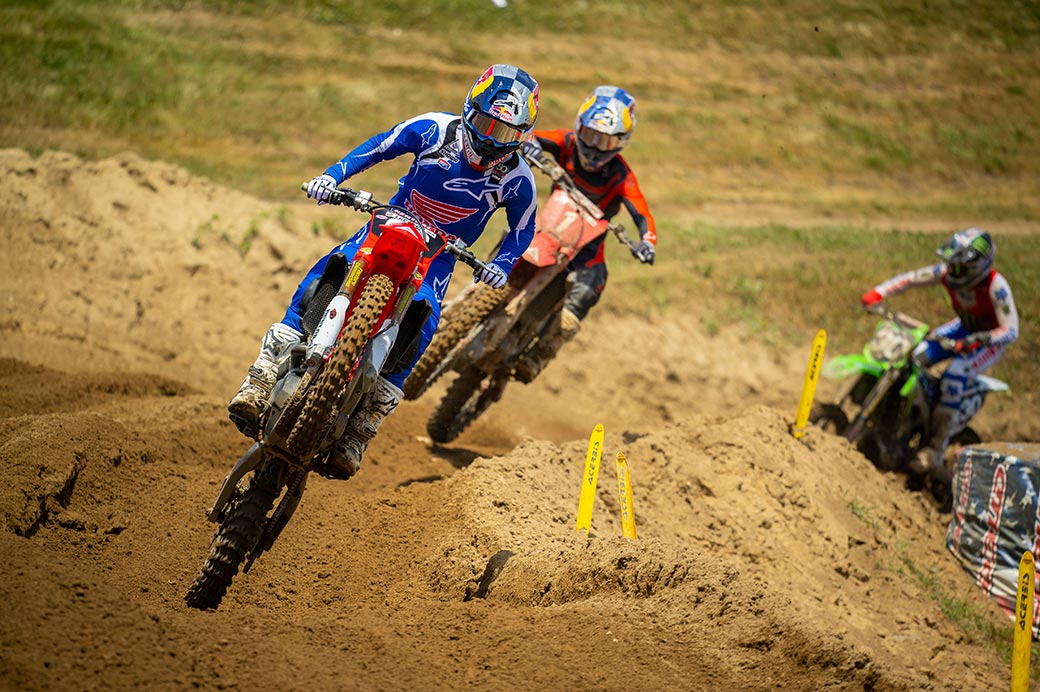 Hunter Lawrence enjoyed a strong 250 moto 1 start and led the first five laps before being overtaken by his brother. When Jett experienced his issue, the older Lawrence once again assumed the lead, but Hunter was in conservation mode and was passed by Jo Shimoda with six laps remaining. Moto 2 again saw Hunter running up front early, while this time Jett was recovering from a bad start, completing lap 1 in eighth. By lap 5, the defending champ was up to second, and he displaced his brother at the front just past the halfway point. Jett and Hunter were 1-2 at the finish, but Shimoda's third place gave him the overall win.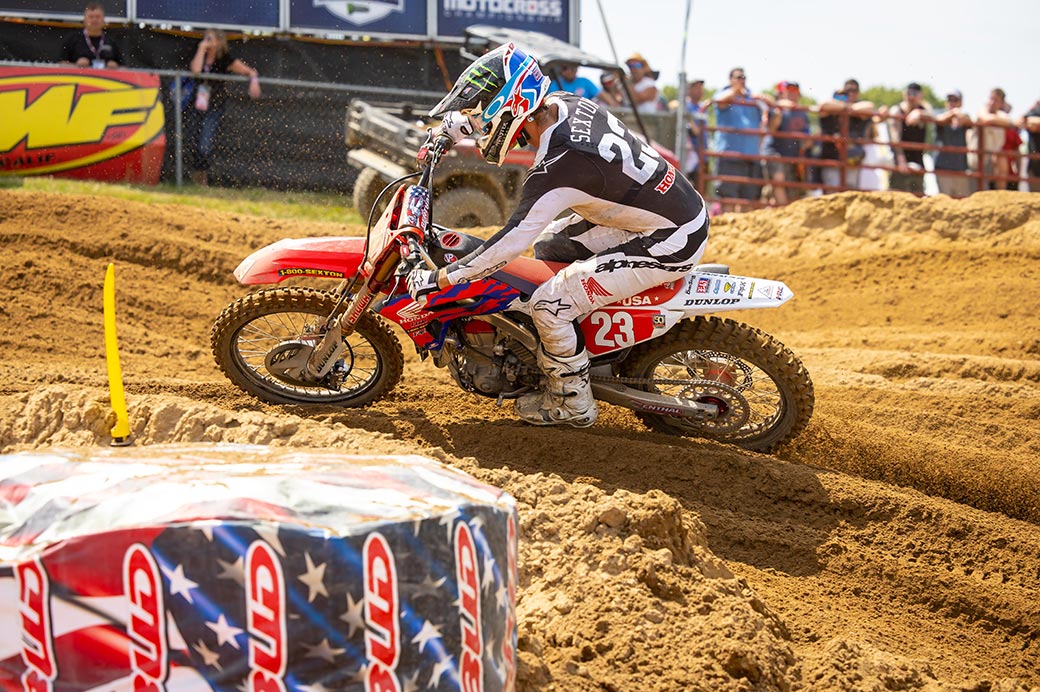 Chase Sexton: "I'm really happy with my riding, especially in the sandy conditions. In past years I've struggled here and Southwick, but this year I feel like I've got some good sand riding in me. The starts weren't great, and I had a little tip-over in the second moto, but I can't really be too bummed. At the end of the day, if I get first or second in the motos, it puts me in a good spot. I think Eli [Tomac] and I are going to be battling, so I'm looking forward to it."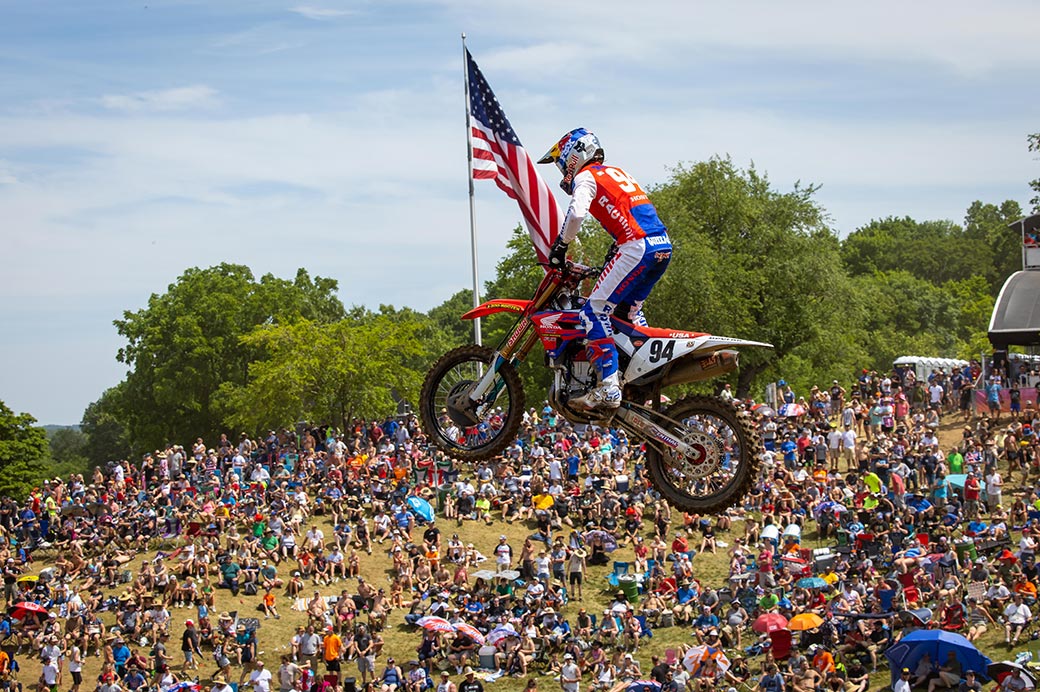 Ken Roczen: "I tried to hang in there as long as I could, but I got sick this week and still had a lot of exhaustion in my bones. I had to drop the anchor in the second moto because I was empty. I've hardly been on the bike this whole last week, and I was laid up on the couch most of the time, so that combination just wasn't ideal heading into this weekend. I'm working on getting healthy so I can attack next weekend."
Hunter Lawrence: "The first moto I was sitting behind Jett, trying to leave my charge until the end of the moto, and then he kind of pulled off. I was like, 'Is he letting me pass?' but then I started feeling something and went into conservation mode. The second moto I struggled with my riding, but congrats to Jo [Shimoda]; he rode awesome today. The red plate doesn't always come as fast as you want or how you want, but we'll take it. It was a tough day, but we made the most of it."
Jett Lawrence: "I was feeling good today. I love this track, and we ended up getting the bike handling pretty good for the first moto. I took some bad lines on the first lap and went back to fourth, but in a couple turns I went up to third. I made my way past Jo and Hunter, and then the bike started feeling funny and losing power. That's part of this sport, and luckily, we had a bit of a points lead, which helps me a little bit. On the second-moto start, it was hard to tuck around since I was so far out wide, but I made my way through and got the race win. It sucks to lose the red plate, but at least I lost it to Hunter."
Team manager, Lars Lindstrom: "It was a tougher day than we've been used to lately, but not every weekend is going to be smooth and a win. We're really frustrated with what happened in the first 250 moto, as we never want to see one of our guys pushing his bike off the track. Thankfully, the team was able to diagnose the problem quickly, and Jett and Hunter were confident to go back out and go 1-2 in the last moto. Congratulations on Jo Shimoda being the first Japanese rider to win a national; he was a longtime Honda rider and is still a friend of the team. In the 450 class, we know that the main competitor is Eli [Tomac], and we've got to figure out how to beat him. Chase definitely had the speed to do that today but didn't have the starts; that's something we need to work on. Ken hasn't been feeling great this week, so we need to try to get him better and improve what we can with him so we can get back in front again."
More AMA Motocross