Stuart Brown and passenger Josh Chamberlain continued their dominance of the 2019 ACU Pro Clean British Sidecarcross Championship at Dean Moor as the pair swept all three races at the third round of the series.
Strong winds battered the circuit as the gate dropped for race one and it was Brown/ Chamberlain who started the day as they meant to go on – taking an early lead and never looking back as they raced to a great win with Brett Wilkinson/ Ryan Humphrey tucked into second.
Gary Moulds and stand in passenger Brian Anthony battled for third with Jake Brown/ Joe Millard and it was J Brown/ Millard who got the pass done to take third. George Kinge/ Lewis Gray we're struggling with clutch problems but they managed to nurse the bike home to a fifth-place finish.
Dan Foden/ Roy Bijenhof passed Michael Hodges/ Paul Horton towards the end of the race to take sixth.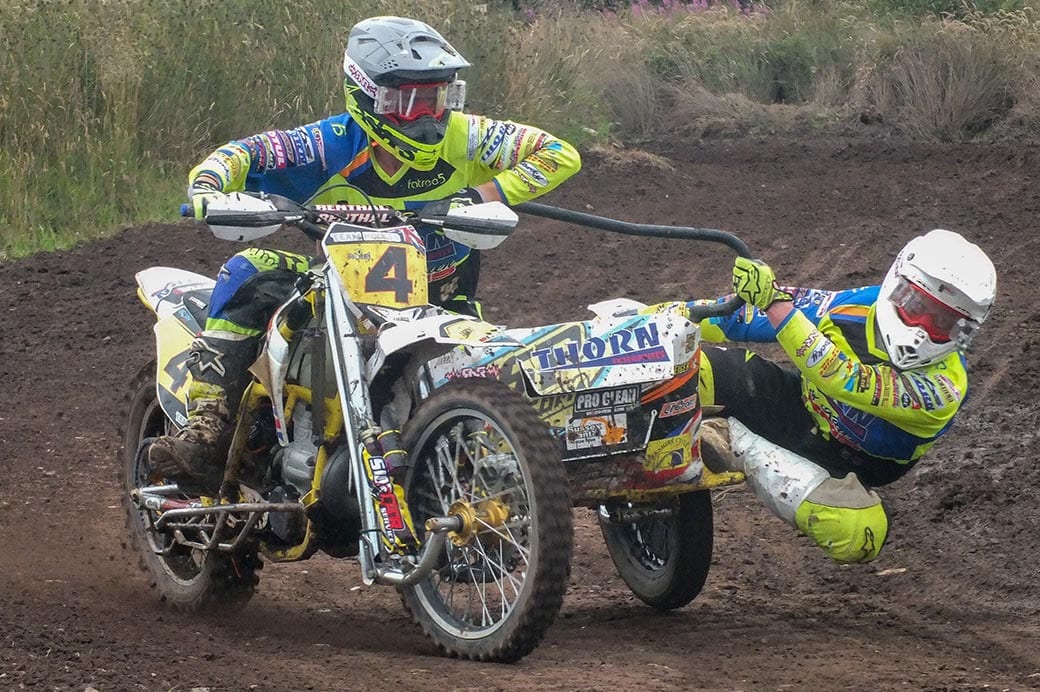 In race two Moulds/ Anthony bagged the holeshot and fought hard to stay ahead but with strong competition, the pair would eventually drop back to fourth.
J Brown/ Millard held second until they were hit with bad luck as the rear brake stuck on. They stopped and freed it up enough to finish the race and save their weekend with a seventh place at the chequers.
Brown/ Chamberlain fought past Kinge/ Gray to take second and started to reel in Wilkinson/ Humphrey to seal their second win of the day.
Dan Foden/ Roy Bijenhof finished fifth and Michael Hodges/ Paul Horton brought it home in sixth.
In the final race J Brown/ Millard didn't have an answer to Brown/ Chamberlain's dominance and had to settle for second behind the red plate holders as the pair wrapped up a third win to keep their perfect score going for the season.
The best action of the day was just behind the leaders with a place on the podium up for grabs.
Moulds/ Anthony were being pressured by Kinge/ Gray who persevered with a painful shower of roost but were unable to find a way through. But the two pairings were about to have company as Wilkinson/ Humphrey were on a charge through the pack after a poor start.
The trio battled lap after lap with Wilkinson/ Humphrey eventually passing Kinge/ Gray to finish third. Moulds/ Anthony held fourth but it wasn't enough as they narrowly missed a podium place. Not reflecting how hard they had worked, Kinge/ Gray ended the final race in fifth with Foden/ Bijenhof in sixth.
Brown/ Chamberlain took the overall win and hold a 41 point advantage over J Brown/ Millard – father and son holding the top two spots in the championship. An amazing feat.
Kinge/ Gray are in third with Michael Hodges and stand in passenger Paul Horton in fourth.
Wilkinson, the defending champion, has so far only participated at two rounds and the team are working to get back to full strength but now move into the top 10 in the standings.
Trying hard to get back on the podium was Irishman Gary Moulds. Although his passenger Steve Kirwin is still struggling with a back injury, the team were in action with a stand-in – our infamous Australian friend Brian Anthony. They also hold a top 10 championship place.
The next round of the 2019 British Sidecarcross Championship is at Wakes Colne on August 11.
Dean Moor Results – 2019 ACU Pro Clean British Sidecarcross Championship
| Pos | Riders | R1 | R2 | R3 | Total |
| --- | --- | --- | --- | --- | --- |
| 1 | Stuart Brown / Josh Chamberlain | 25 | 25 | 25 | 75 |
| 2 | Brett Wilkinson / Ryan Humphrey | 22 | 22 | 20 | 64 |
| 3 | Jake Brown / Joe Millard | 20 | 14 | 22 | 56 |
| 4 | Gary Moulds / Brian Anthony | 18 | 18 | 18 | 54 |
| 5 | George Kinge / Lewis Gray | 16 | 20 | 16 | 52 |
| 6 | Dan Foden / Roy Bijenhof | 15 | 16 | 15 | 46 |
| 7 | Michael Hodges / Paul Horton | 14 | 15 | 14 | 43 |
| 8 | Tony Grahame / Charlie Ide | 13 | 13 | 13 | 39 |
| 9 | James Georges / Chris Pannell | 12 | 12 | 12 | 36 |
| 10 | Emma Moulds / Niki Adair | 11 | 11 | 11 | 33 |
| 11 | Tilo Maguire / Zac Snell | 7 | 9 | 9 | 25 |
| 12 | Grant Young / Blake Stevens - Wood | 9 | 8 | 7 | 24 |
| 13 | Matthew Connor / Jim Kinge | 6 | 6 | 10 | 22 |
| 14 | Rob Oldfield / Faye Barnes | 10 | 10 | 2 | 22 |
| 15 | Luke Peters / Jack Wilkinson | 4 | 7 | 8 | 19 |
| 16 | David Steeds / Darren Bishop | 2 | 5 | 5 | 12 |
| 17 | Jonathon Wilson / Louise Houston | 8 | 0 | 0 | 8 |
| 18 | Darren Caws / Chris Huntley | 0 | 4 | 4 | 8 |
| 19 | Laim Mudie / Chris Booth | 1 | 0 | 6 | 7 |
| 20 | Jake Wilson / Andrew Rowan | 5 | 2 | 0 | 7 |
| 21 | Neil Warrington / Eric Maguire | 0 | 3 | 3 | 6 |
| 22 | James Whitt / Scott Lloyd | 3 | 0 | 0 | 3 |
SERIES STANDINGS after 4 (of 6) rounds: 1 S Brown 225, 2 J Brown 184, 3 Kinge 152, 4 Hodges 143, 5 Foden 136, 6 Grahame 125, 7 Wilkinson 106, 8 Moulds 99, 9 Georges 98, 10 Moulds 92, 11 Whitt 67, 12 Connor 63, 13 Peters 59, 14 Oldfield 52, 15 Field 49, 16 Pelling 45, 17 Young 44, 18 Moss 36, 19 Steeds 31, 20 Caws 28, 21 Maguire, 22 Warrington 24, 23 Mudie 22, 24 Balsaille 18, 25 Foyle 10, 26 Jonny Wilson 8, 27 Jake Wilson 7, 28 Waller 3
More Motocross