This weekend the sidecar GP season reaches GP 8 and the Sidecarcross FIM World Championship started the second half of the season at Markelo in the Netherlands.
This track has been visited regularly by the sidecars and the Dutch sidecar family make everyone very welcome.
Bax/Stupelis arrived at the circuit with the red plate and would hold it after another impressive race weekend at the Markelo circuit.
Teams returning this week were Team #8 – Brett Wilkinson/Ryan Humphrey. Brett is still recovering from a damaged back after a bad crash at GP 1. Also, Julian Veldman had a bad fall during training and broke his wrist.
The teams missing were #111 – Daniel Willemsen parted company with passenger Luc Rostingt in the Ukraine and has not yet organised a replacement for the GPs. And team #32 of Moulds/Kirwin, with passenger Steve who damaged his back and needs to rest.
Qualifying races were full of action, although there were only 31 teams so everyone qualified after Hodges/Grahame landed badly on a jump and passenger Scott Grahame broke his leg. Which meant five British teams qualified for the GP races.
The weather was cooler on race day with rain overnight and a strong breeze during the day, which help keep the dust under control and wasn't as hard on the riders.
In race one, Dierckens/Bax bagged the holey but would eventually slip back to fourth. In the opening corners Hermans/Musset were in second with Bax/Stupelis third. Hermans/Musset worked their way into the lead as Bax/Stupelis battled to take second from Dierckens/Bax.
Bax/Stupelis had the leader in their sights but couldn't find a way past. Then, with just a few laps of the circuit to go, leaders, Hermans/Musset slowed with a broken steering damper.
This allowed Bax/Stupelis to blast into the lead to take the win.
Vanluchene/Van Den Bogaart worked hard to move into second with Dierckens/Bax in third. J Brown/Millard had taken fourth off the start, but the competition was strong. It wasn't long before Brown/Chamberlain tucked in behind creating a father and son battle but it was the experience of Brown/Chamberlain that won through as they moved ahead.
The pair went on to pass Dierckens/Bax and take a great third place. J Brown/Millard wasn't far behind in fifth place.
Kinge/Gray had a great start in 10th and had a steady race fighting through and passing Giraud/Haller who slowed towards the end of the race when the bike began to smoke.
Wilkinson/Humphrey, in their first GP race of the season, didn't get a clear run into bend one and started near the back of the pack but they gradually worked their way forward to take a great 13th place.
Foden/Bijenhof fought hard all race to take their first point of the 2019 season.
In Race 2, there was a crash on bend two and Giraud/Haller flipped the bike with many teams unable to avoid them. It was a large pileup but when the dust settled and the teams had untangled, it was driver Giraud who came off worse. The race was stopped as he was still on the track and the medical teams worked hard to safely take him from the track in an ambulance.
In the restart, Hermans/Musset put their race one problems behind them and blasted into an early lead with Brown/Chamberlain in second but their rivals behind were motivated as they started to close.
By the half waypoint, Bax/Stupelis had taken the lead and remained there to take a brilliant double win. Hermans/Musset held second until the final few laps when Vanluchene/Van Den Bogaart found a way past. Brown/Chamberlain took a comfortable fourth, with enough points for third overall.
J Brown/Millard also had a great start and battled hard for the whole race, managing to fight past Sanders/Van Gaalen and take a great seventh.
Wilkinson/Humphrey had a better start holding a good 10th until Varik/Daiders blasted ahead towards the end of the race. Kinge/Gray battled through the field having a great racing, taking 13th. Foden/Bijenhof worked hard to finish in the points again.
There are still three British teams in the top 20 with Stuart Brown/Chamberlain holding a brilliant sixth, Jake Brown/Millard are 13th and Kinge/Gray 14th.
In next week the championship moves to the natural hilly Strassbessenbach track in Germany and we'll keep you updated on all the action.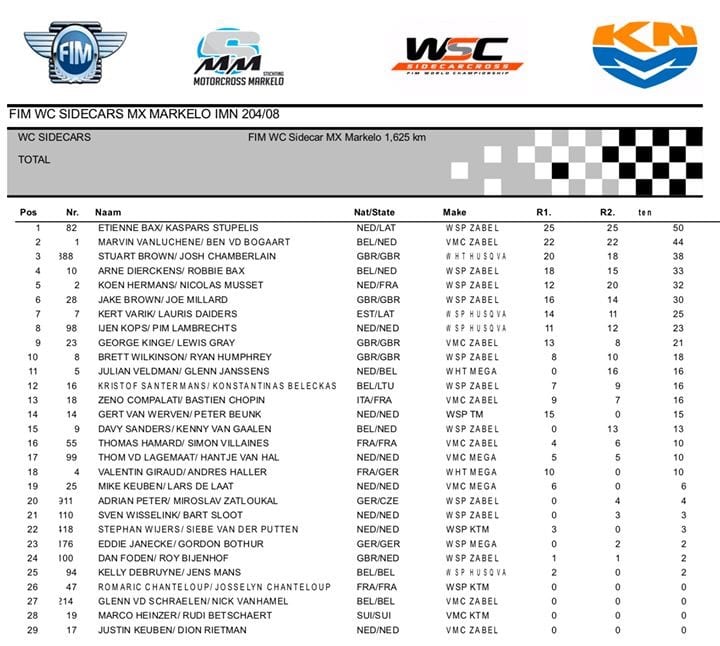 Latest News