Kawasaki Racing Team MXGP's Ben Watson turned his season around with a sparkling sixth place in the second moto of the Trentino round of the FIM Motocross World Championship at Pietramurata.
The Englishman paid the penalty for an early error in race one which cost him half a minute and left him temporarily dazed; by the finish he had recovered to eighteenth after posting top-ten lap times throughout the second half of the moto and he went to the start of the second moto with renewed confidence. An excellent getaway saw him race top-six all moto to finish sixth, just fourteen seconds behind the winner, after thirty-five minutes of racing and lift him to joint-tenth in the series points standings.
Ben Watson: "I've always felt good here in the past, and even won a GP here in MX2 two years ago, but something was missing yesterday.
"I always try to stay positive; everything leaves you and you have to enjoy it when you get on the bike so today was a new day.
"I gated well in the first race but I just braked too late and missed the first corner. On the second lap I crashed and hit my head quite hard so I was quite slow to get up but once I got comfortable I rode pretty good; the result was nothing but the feeling was not too bad.
"For the second race we decided to go with the scoop tyre because the start was ripped and, even though the track is hard and slick, there was something to turn on everywhere. I sacrificed a few milli-seconds around the track to get a great start; in fact if I had been further to the inside after Qualifying I would have holeshot.
"It felt good to be up there with the lead-pack; I was able to ride my own race and it came automatically. I didn't feel anything heavy and I wasn't going over my limit to stay there. Now I need to go in steps; I hadn't ridden with those guys at that level so far this season so it was good to turn the season round and now I look forward positively to the rest of the GPs."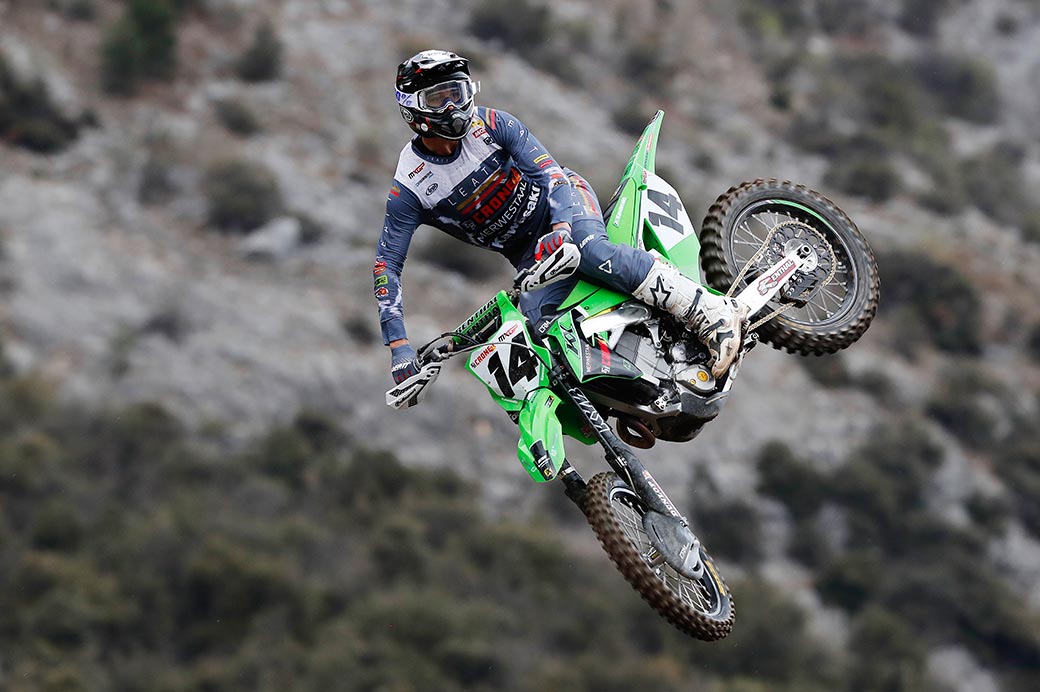 F&H Kawasaki Racing Team's Jed Beaton once again showed his track craft to advance to seventh on the opening lap of race one with clever line-choice and he maintained that position with top-six lap times for half the race before the on-going effects of the shoulder injury he sustained at round two of the series forced him to slacken his pace to finish fifteenth. The second moto followed a similar pattern to finish fourteenth; he remains tenth in the championship standings.
Jed Beaton: "It's the same as last week; I'm still struggling with the shoulder. I don't have any pain but there's just no strength after a bit of riding. When I'm racing the first ten-fifteen minutes I'm up the front battling, but then it drops off. It's a little difficult for me to accept at the moment but it is how it is; now we have two weeks to try to get it sorted as best we can before the next GP."
Also In MXGP