Davy Pootjes, a professional motocrosser from Ammerzoden in the Netherlands broke his arm during a training session last year, but this injury is much worse than initially thought.
With a range of injuries keeping Davy off the bike for long periods of time, he needed to catch up on the hours he had missed.
He was in France for two weeks of training, and on the last moto of the last day, his life changed.
He came to a right-hand turn, a small jump and a downhill slope. Out of the short turn, he crashed. Nothing too bad, the sort of crash you would often see at the track, but on this occasion, the bike landed on him and crushed his arm.
He broke the Ulna in four places and suffered an open fracture. He didn't know it at the time, but the bike tore off all the muscles on the underside of his arm and damaged the nerves.
Davy says it was touch and go whether he would lose his arm.
He was immediately operated on in France. He lost a lot of blood; his arm started to swell badly. The surgeons had inserted plates and screws.
"I would normally have to stay in hospital for a week, but the day after, they wanted to open up my arm to relieve the pressure from the swelling," said Davy.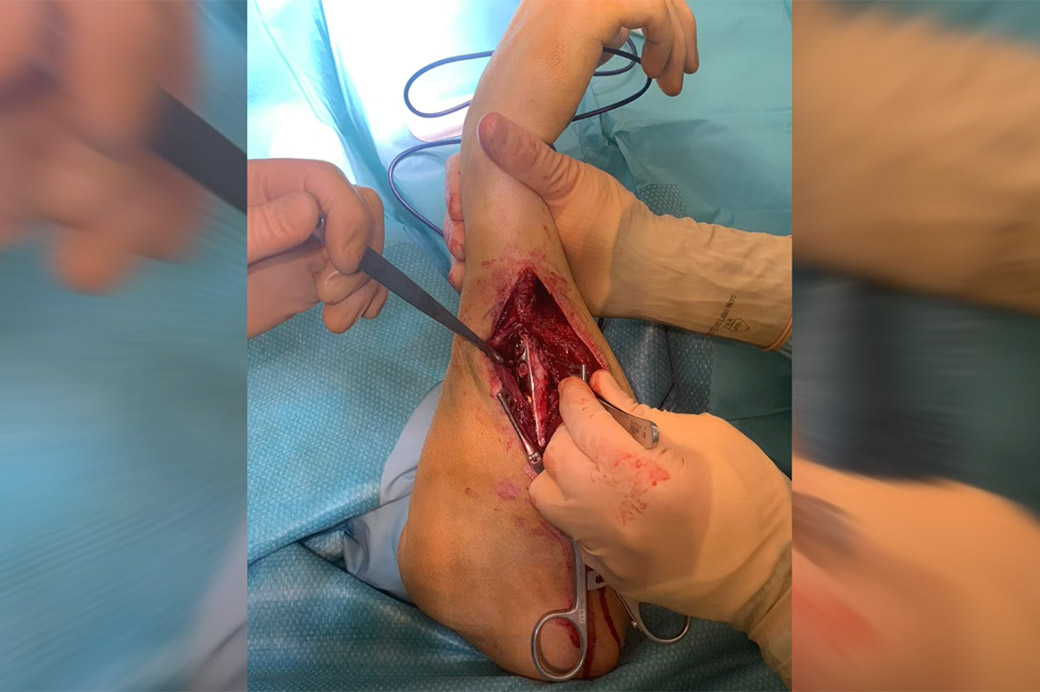 He had concerns with the hospital, and there was a language barrier with just the surgeons that could speak English. However, he would not get to see them outside of the operating theatre. "I could not speak to anyone," Davy added. " I did not know how it was going with my arm."
Davy elected to leave the hospital and transfer to a hospital he knew in Belgium. He was kept there for a week.
Initially, he thought: "Okay, it's an open fracture, but a broken bone heals, and you can ride again.
"However, there we realised that all the muscles had been torn off and that I had nerve damage – my arm was essentially hanging by the radius. Everything else was torn through.
"Then the question arises if this will all come good with my arm again. And if so, it would take a very long time.
"I've been operated on five or six times, including the nerves in my arm. They have rerouted some nerves and sinews. But the bone would not knit, so they inserted a piece of bone. That also failed to knit together properly.
"That prevented me from undertaking any activity.
"In Belgium, they did not open up my arm to relieve pressure on the muscles and nerves, which meant the healing process was really slow. This caused the bones not to fuse because my body was so busy healing the muscles and nerves. Even bone simulators did not help.
"We simply had to wait and see when it will all be in order again when the bone wants to heal again.
"I haven't posted anything on the internet for a while now.
"Also, in the beginning, when I broke my arm, I just simply stated that I had broken my arm.
"As everyone knows, I've had several injuries over the last seven years. I know that I'm not a wild rider, but things are not going my way.
"You train hard; you do everything – physically and mentally it was so good, and then this was a severe setback mentally.
"I've gone through a difficult time – sometimes you're even ashamed to see people or to post any bad news on the internet. You're lying there with the possibility of losing your arm, and people post things like 'he should go and stand on scaffolding and work', and such things.
"I don't care much what people say, but the last seven years have had an impact on me. But it's going somewhat better again now.
"I what to thank F&H for everything they have done for me. It was going so well. Everything was on point – the bike was going perfectly. Everything was well organised, but alas, we could make nothing of it last year and this year.
"To all my sponsors, supporters, everyone that helped me – the doctors, physios, masseurs, thanks to you all. And hopefully, we're back soon."