Last updated:
Jeffrey Herlings has posted an injury update after being landed on by Ivo Monticelli at MXGP Oss.
In an update via social media, Jeffrey Herlings confirmed he is out of MXGP Oss, the 2021 MXGP of the Netherlands, after being landed on in his first race by Ivo Monticelli.
Herlings says he is lost for words after the incident at the Oss Motocross Circuit. The 26-year-old was with the lead riders at the head of the chasing pack in the opening metres of the first race when Monster Energy Kawasaki's Monticelli appeared to over jump which brought him down on Herlings left shoulder.
The Red Bull KTM Factory Racing rider somehow kept it on two wheels but he did appear to be suffering in the early moments after. He gestured to the pit wall an issue with his arm or shoulder and his pace dropped slightly.
Remarkably, Herlings was able to dig deep and find the pace to one by one catch the riders ahead, passing championship leader Tim Gajser, then Romain Febvre and finally Glenn Coldenhoff to take the lead and the race win.
After the race, an annoyed Herlings said: "I don't know why things like this happen – just use your brain. I jumped normal and somebody hit me on my shoulder. I can't even move my arm up right now. He added: "It's very devastating. Hope everything is okay. It was really painful to ride – I can't believe I won, every jump it felt horrible."
Unfortunately, it's not okay and he's ruled out of the second race with a broken shoulder blade. "I got no words for this," Herlings wrote on social media. "I played it so smart this year, I took zero risk and did everything according to plan this season.
"I was almost in the championship lead and then this… As you can see on the uphill the starting device didn't pop out yet, so I lost a bit of balance because of it, but what the hell was he thinking?
"I can't believe I still won the moto with a broken shoulder blade. The pain was unreal, I had tears in my eyes the whole moto from the pain.
"I'm so sorry for my great team – I am so gutted. The bike was once again [a rocket].
"Tomorrow we'll check further how bad the damage is and when we will be able to return to racing. Thanks to my sponsors for keep believing in me. Had to dig deep for this one."
Update July, 27 2021, 12:47 BST: Herlings spoke with MXGP's Lisa Leyland at Loket and he shared some extra details while on camera. "Honestly, it's hard for me to say because I don't even know myself," said Herlings.
"There's a small chance I will be back racing next weekend in Lommel [round six] to keep my championship hopes alive. If that is smart? I don't know. I don't think so. Normally the plan is to return back in Finland [round eight] and be healthy. Once again, nothing has been decided but this week we will have another check-up with the doctor and then we hope to have more news to see what will happen."
Update July, 23 2021, 13:21 BST: The Red Bull KTM has released a statement that rules out Herlings from the Loket GP. The fracture is larger than first thought. "I don't have pain in my shoulder for day-to-day life but sports and especially something like motocross is a different story," said Herlings. "We'll sit out Loket with the aim to come back 100 per cent. It's a shame and something that wasn't my fault but it is what it is."
Update July, 20 2021, 11:32 BST: Herlings posted an Instagram story late last night that showed the x-ray of his shoulder injury (image below). We'll leave you to draw your own conclusions from that image. There is still no further word from the team.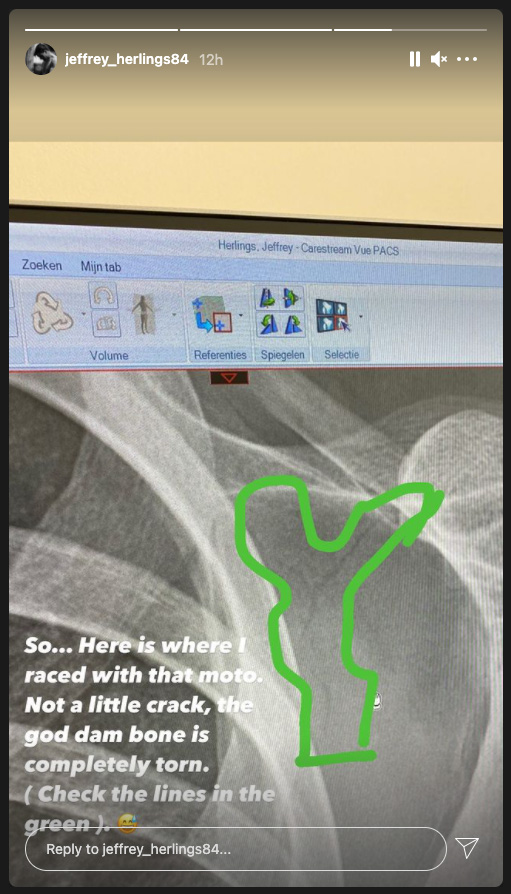 Update July, 19 2021, 09:00 BST: On the Red Bull KTM Factory Racing press release Herlings added: "I have a small crack in my shoulder blade and I still don't know how bad it is. We had a scan and it doesn't seem too bad. I don't have any pain now but racing a dirt bike is a different story. We'll have another check tomorrow [Monday]."
Also In MXGP