The two Red Bull KTM 450 riders Tony Cairoli and Jeffrey Herlings finished first and second in the 2017 FIM Motocross World Championship winning 12 (six each) of the 19 Grands Prix between them, so, after seeing the pair battle it out again at round one in Argentina it's little surprise that many are forecasting a battle royale for 2018.
So, we asked the riders themselves about the potential duel.
At 32 Tony Cairoli is arguably the greatest rider in the modern era.  Already a nine-time world champion in the Premier class on two brands of machine it could have been more with campaigns in 2015 and 2016 scuppered by injury and misfortune.
Jeffrey Herlings is 23 years-old and already one of the most successful athletes in Grand Prix history and the most prolific Dutch motorcycle racer ever.  He's also suffered titles snatched from his grasp due to hospitalisation and physical setbacks.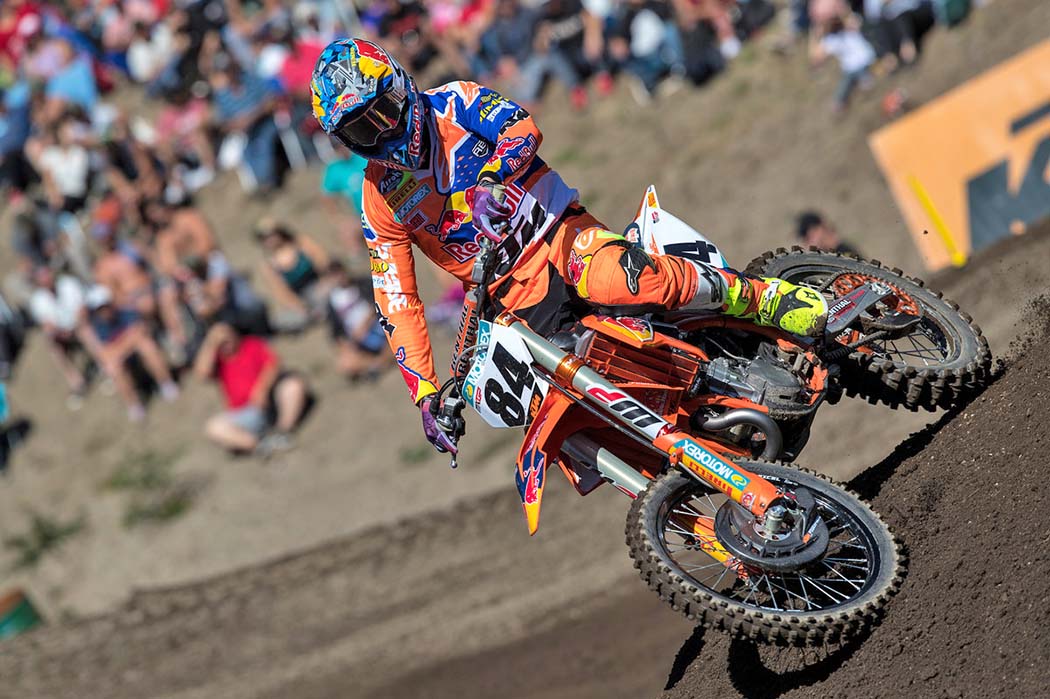 Herlings' transition from being the best 250cc racer this century to MXGP rookie last year brought him head-to-head with Cairoli. A broken hand only weeks before the opening round of the series and a small period of acclimatisation meant he took time to reach Cairoli's level, the Sicilian thrilling fans and followers with comeback charges at his home Grand Prix at Arco di Trento and also winning again on home turf at Ottobiano.
By round six Herlings had his first podium and a week later grasped the first of six triumphs. Ottobiano saw the first of several 'face-offs'.
The pair raced hard again in the sand of Lommel, Belgium where KTM filled all six MXGP and MX2 podium positions.  2018 is far from being a KTM show, however: four other riders triumphed in 2017 and with talent like Gautier Paulin, Clement Desalle, Romain Febvre, Tim Gajser, Shaun Simpson, Jeremy van Horebeek, Max Anstie, Glenn Coldenhoff and more, the Red Bull KTM duo will have a tough job to reign supreme.
The weight of numbers is convincing though. Since 2010 there have been 16 MX2 and MXGP championships and between them Cairoli and Herlings have claimed nine of those.
Cairoli has 83 GP wins. Herlings has 68. Cairoli is into his 15th year of full-time grands prix.
Herlings has reached his ninth – his second term with the bigger bike. Cairoli has been on the top of his game since the mid-'00s.  Herlings is still on the rapid rise to stardom and his victory in a wild-card appearance at the Lucas Oil AMA Pro National Motocross series in the US last year only increased his profile further.
How to beat Tony?  "To be faster but also to be smarter which is already difficult because he has been on the scene a long time, 15 years I think, and he knows all the ins-and-outs and all the tricks thanks to that experience," says Herlings. "You need to have pure speed but also know when to really use it.
Everyone makes mistakes but the difference will come down to the big ones and avoiding those as much as possible while also staying out of that injury-zone. "Tony has everything you need – he can start, charge and be fast on pretty much every track," Jeffrey adds. "To beat that you need the full package and to try and make it work better."
Pre-season Herlings won Internationals in the UK and France. Cairoli reigned in the Internazionali D'Italia once more.  For Herlings, though, the recent winter was one of his best and most trouble-free in recent years, devoid of injury worries or wasted recuperation time.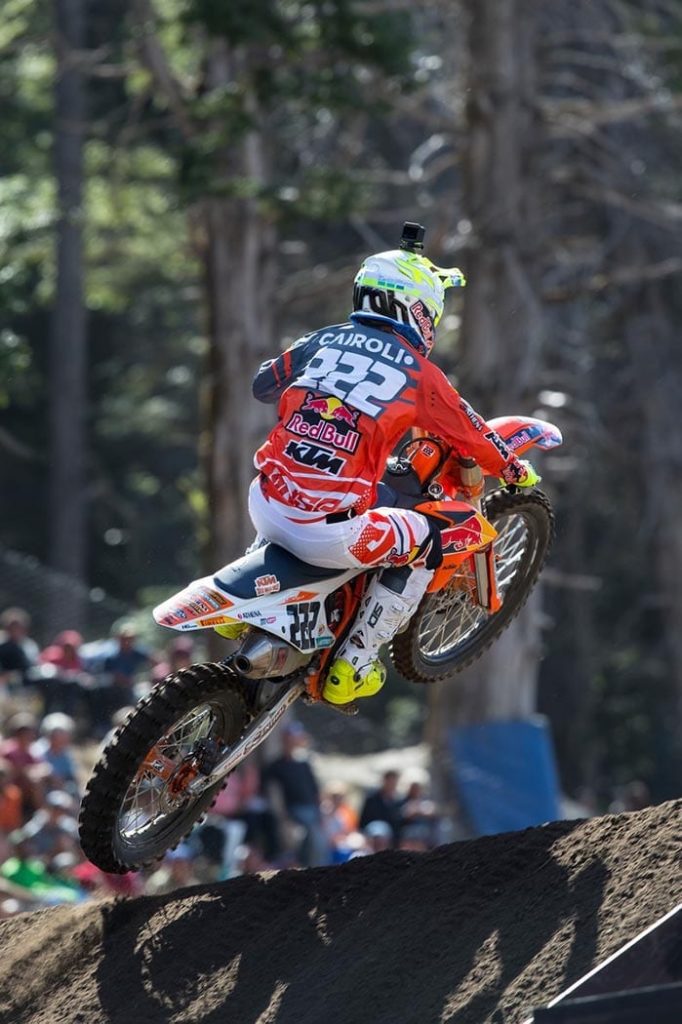 "I feel comfortable and strong and we did everything we planned to do without any hiccups," says Jeffery. Cairoli is just one world championship away from Stefan Everts' record haul of 10 which is motivation enough to go full-tilt again in 2018. But the Sicilian insists his drive comes from an inner and more personal source.
"It is important to have fun and to check if I can improve in some ways – that's the challenge," he says.  "I want to see if I can get better so I am almost going up against myself." In the background is the devoted technical crews of both riders – Claudio and Davide De Carli and their core Italian group and then Dirk Gruebel, Wayne Banks and the rest of Herlings' inner circle.
A KTM contest for MXGP spoils could bring some interesting, tense and dramatic moments within the larger Red Bull setup but Gruebel – who also oversees the MX2 title push with Pauls Jonass – sees both the advantages as well as any potential awkwardness.
"It is give-and-take and luck will play a big role and some days one will be better than the other," the German says.  "They both need to accept that they cannot win every week and guys from other brands will also be in there," said Gruebel. "They both need to be consistent. I hope we don't need to manage anything but we will need to gauge the situation.
"It is a luxury situation to have two guys from the same team going for a title… but it is also high maintenance!" For fans of each rider, KTM staff and MXGP devotees it could be a thrilling seven months ahead from what we have just witnessed in Patagonia.