So it's finally go time for MXGP. The best of the best are set to go head-to-head this coming weekend at the Russian circuit of Orlyonok.
Even better, it appears that all the top contenders are healthy – other than I have a question mark over Tony Cairoli (is that just me?). But in recent days, we have seen more than a handful of riders removed from the entry list. Let's briefly examine some of the guys that will be missing at round one of the FIM Motocross World Championship…
Arminas Jasikonis is not yet ready to make his return to the FIM Motocross World Championship after recovering from his severe injuries sustained late September last season at the Grand Prix of Lombardia.
The big Lithuanian made his return to competition last weekend at the French Elite, where he delivered solid results, including a top-10 finish in the second moto. But despite that success, both he and the team have no desire to rush his return to MXGP.
Mitch Evans has not yet fully recovered from a wrist injury, so he is out for the season opener.
Brian Bogers – a factory GASGAS rider in 2021 – has recently undergone surgery to try and resolve tendonitis in his arm.
Speaking of GASGAS, Alberto Forato has stepped up to the MXGP this season. It's a bold move from the Italian, but the SM Action Racing pilot isn't injury-free. Three weeks ago, Forato sustained an anterior cruciate break and a microfracture of the tibial in a crash while training. Although he is back on the bike, it looks like he'll be missing from the gate in Russia.
Beta factory man Jimmy Clochet is no longer on the entry list. We haven't spotted any injury issues, so this one is a mystery to us.
Team Honda SR Motoblouz's Benoit Paturel is out of the Russian GP. It appears he could be suffering from lingering Covid. His team wrote on social media that Paturel had been "affected by the Covid a few weeks ago". The Frenchman received the green light from doctors to race at Ernee last weekend, and although he completed the first moto, he elected to retire from the event. The team says Paturel was hospitalised for observation as a precaution.
And lastly, Hardi Roosiorg, Enzo Toriani and Josh Gilbert will be missing. Gilbert continues his long recovery from ACL surgery, but he told TMX that things are going well and is now back on the bike.
Expect to see him back on the gate at either Foxhill or Hawkstone and all being well back to Grand Prix action in time for Matterley Basin.
Hardi Roosiorg (Sahkar Racing) has no visa for Russia and will likely miss Matterley Basin due to a date clash with the Estonian Championship.
Frenchman Enzo Toriani will miss several rounds after a training crash left the 22-year-old with a fracture of the fifth metatarsal and multiple talus fractures that had to be operated on immediately.
One additional name on the MXGP entry list is Russian #555 Artem Guryev.
MX2
JK Racing Yamaha's Gerard Kongos, Davy Pootjes, Auwera Vander, Julian Vander Auwera (the team aren't travelling to Russia), Enzo Toriani, Gerard Congost (he will start his GP campaign in England) and Briton Taylor Hammal are all missing from the updated MX2 entry list.
Initially, there were logistical issues for Bike It MTX Kawasaki's Hammal, which meant he would not be racing in Russia. However, he sustained a broken finger at the third round of the British motocross championship last weekend and will very likely miss MXGB's round four. He is now in a race for fitness for Matterley Basin.
Despite some reports that suggested otherwise, injured Jago Geerts will line up on the Orlyonok gate for the MXGP of Russia after positive feedback from his physiotherapist.
On the official entry list for Russia, Conrad Mewse is shown to have the #2 plate. We have spoken with Conrad and can confirm that this is a mistake, and he will race his #426.
MXGP Entry List - 2021 MXGP of Russia
| No. | Surname | First Name | Brand | Nat. | Fed. | Team |
| --- | --- | --- | --- | --- | --- | --- |
| 3 | Febvre | Romain | Kawasaki | FRA | FFM | Monster Energy Kawasaki Racing Team |
| 4 | Tonus | Arnaud | Yamaha | SUI | FMS | hostettler Yamaha Racing |
| 10 | Vlaanderen | Calvin | Yamaha | NED | KNMV | Gebben Van Venrooy Yamaha Racing |
| 18 | Brylyakov | Vsevolod | Honda | RUS | MFR | JWR Racing |
| 19 | Olsen | Thomas Kjer | Husqvarna | DEN | DMU | Rockstar Energy Husqvarna Factory Racing |
| 22 | Strijbos | Kevin | Yamaha | BEL | FMB | Gebben Van Venrooy Yamaha Racing |
| 24 | Simpson | Shaun | KTM | GBR | ACU | SS24 KTM MXGP |
| 29 | Jacobi | Henry | Honda | GER | DMSB | JM Honda Racing |
| 32 | Van doninck | Brent | Yamaha | BEL | FMB | Gebben Van Venrooy Yamaha Racing |
| 41 | Jonass | Pauls | GASGAS | LAT | LAMSF | Standing Construct GASGAS Factory Racing Team |
| 43 | Evans | Mitchell | Honda | AUS | MA | Team HRC |
| 61 | Prado | Jorge | KTM | ESP | RFME | Red Bull KTM Factory Racing |
| 77 | Lupino | Alessandro | KTM | ITA | FMI | MRT Racing Team KTM |
| 84 | Herlings | Jeffrey | KTM | NED | KNMV | Red Bull KTM Factory Racing |
| 89 | Van Horebeek | Jeremy | Beta | BEL | FMB | BETA-SDMCORSE MX TEAM |
| 91 | Seewer | Jeremy | Yamaha | SUI | FMS | Monster Energy Yamaha Factory MXGP |
| 123 | Valiakin | Georgii | Husqvarna | RUS | MFR | |
| 128 | Monticelli | Ivo | Kawasaki | ITA | FMI | Monster Energy Kawasaki Racing Team |
| 147 | Sihvonen | Miro | Honda | FIN | SML | JWR Racing |
| 161 | Ostlund | Alvin | Yamaha | SWE | SVEMO | JK Racing Yamaha |
| 183 | Locurcio | Lorenzo | KTM | VEN | FMV | JD GUNNEX KTM Racing Team |
| 222 | Cairoli | Antonio | KTM | ITA | FMI | Red Bull KTM Factory Racing |
| 243 | Gajser | Tim | Honda | SLO | AMZS | Team HRC |
| 259 | Coldenhoff | Glenn | Yamaha | NED | KNMV | Monster Energy Yamaha Factory MXGP |
| 555 | Guryev | Artem | Husqvarna | RUS | MFR | |
| 701 | Pronenko | Svyatoslav | Husqvarna | RUS | MFR | |
| 811 | Sterry | Adam | KTM | GBR | ACU | Hitachi KTM fuelled by Milwaukee |
| 911 | Tixier | Jordi | KTM | FRA | FFM | JT911 KTM racing team |
| 919 | Watson | Ben | Yamaha | GBR | ACU | Monster Energy Yamaha Factory MXGP |
| 991 | Watson | Nathan | Honda | GBR | FFM | HONDA SR MOTOBLOUZ |
MX2 Entry List - 2021 MXGP of Russia
| No. | Surname | First Name | Brand | Nat. | Fed. | Team |
| --- | --- | --- | --- | --- | --- | --- |
| 11 | Haarup | Mikkel | Kawasaki | DEN | DMU | F&H Kawasaki MX2 Racing Team |
| 14 | Beaton | Jed | Husqvarna | AUS | MA | Rockstar Energy Husqvarna Factory Racing |
| 20 | Todd | Wilson | Kawasaki | AUS | MA | Bike it MTX Kawasaki |
| 28 | Vialle | Tom | KTM | FRA | FFM | Red Bull KTM Factory Racing |
| 39 | Van De Moosdijk | Roan | Kawasaki | NED | KNMV | F&H Kawasaki MX2 Racing Team |
| 70 | Fernandez | Ruben | Honda | ESP | RFME | Honda 114 Motorsports |
| 74 | de Wolf | Kay | Husqvarna | NED | KNMV | Rockstar Energy Husqvarna Factory Racing |
| 80 | Adamo | Andrea | GASGAS | ITA | FMI | SMACTION RACING TEAM |
| 83 | Renkens | Nathan | KTM | BEL | FMB | NR83 |
| 87 | Brumann | Kevin | Yamaha | SUI | FMS | iXS MXGP Team |
| 93 | Geerts | Jago | Yamaha | BEL | FMB | Monster Energy Yamaha Factory MX2 Team |
| 101 | Guadagnini | Mattia | KTM | ITA | FMI | Red Bull KTM Factory Racing |
| 118 | Rubini | Stephen | Honda | FRA | FFM | Honda Racing Assomotor |
| 122 | Lucas | Robert | Honda | FRA | FFM | |
| 172 | Boisrame | Mathys | Kawasaki | FRA | FFM | F&H Kawasaki MX2 Racing Team |
| 198 | Benistant | Thibault | Yamaha | FRA | FFM | Monster Energy Yamaha Factory MX2 Team |
| 224 | Teresak | Jakub | KTM | CZE | ACCR | JD GUNNEX KTM Racing Team |
| 239 | Florian | Lion | KTM | GER | DMSB | WZ-RACING |
| 253 | Pancar | Jan | KTM | SLO | AMZS | KTM RACESTORE MX2 |
| 313 | Polak | Petr | Yamaha | CZE | ACCR | hostettler Yamaha Racing |
| 403 | Boegh Damm | Bastian | KTM | DEN | DMU | WZ-RACING |
| 426 | Mewse | Conrad | KTM | GBR | ACU | Hitachi KTM fuelled by Milwaukee |
| 516 | Laengenfelder | Simon | GASGAS | GER | DMSB | DIGA PROCROSS GASGAS FACTORY RACING |
| 517 | Gifting | Isak | GASGAS | SWE | SVEMO | DIGA PROCROSS GASGAS FACTORY RACING |
| 655 | Balandin | Daniil | KTM | RUS | MFR | |
| 711 | Hofer | Rene | KTM | AUT | AMF | Red Bull KTM Factory Racing |
| 730 | Petrashin | Timur | KTM | RUS | MFR | |
| 766 | Sandner | Michael | KTM | AUT | AMF | Raths Motorsports |
| 912 | Rizzi | Joel | Honda | GBR | FFM | Honda 114 Motorsports |
| 959 | Renaux | Maxime | Yamaha | FRA | FFM | Monster Energy Yamaha Factory MX2 Team |
2021 MXGP of Russia Timetable
(Local Times)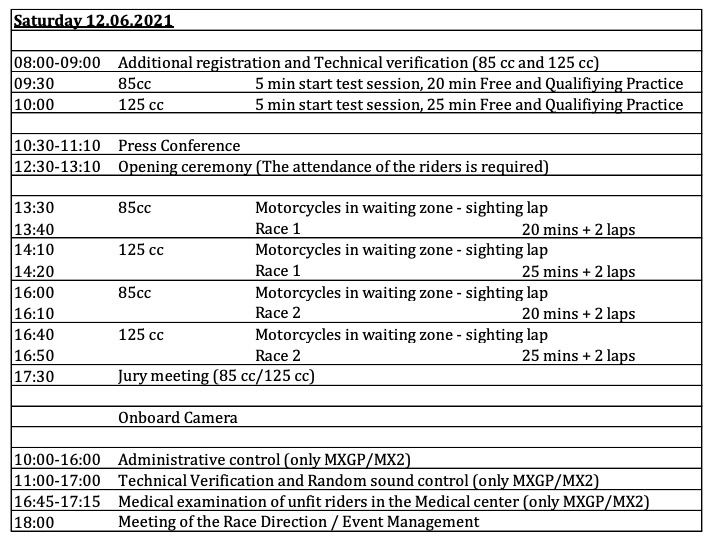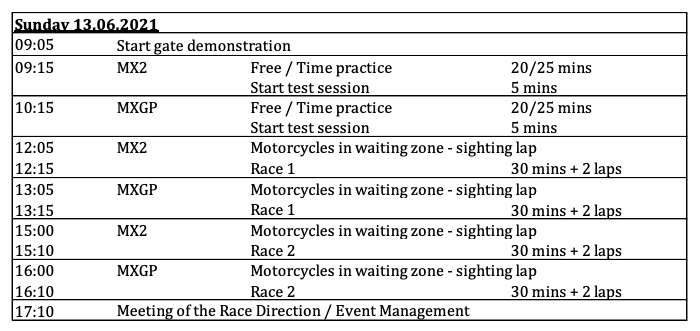 Also In MXGP