The young British pairing of Dan Foden/Nathan Cooper impressed at the second round of the Open Dutch Championship hosted at the GP track in Halle, with the British teams finishing inside the top six.
Foden/Cooper finished fifth in the first heat, only two and a half seconds later than Brett Wilkinson/Joe Millard, who came in fourth.
The first heat was dominated by Etienne Bax/Ondrej Cermak. And the pair raced to an easy win after taking the holeshot. Unfortunately for them, Bax's bike failed a noise test after the race, and the world champion received a penalty that dropped him to sixth place in the results. It would ultimately cost them the overall victory.
The three British teams opened the race with Brown in eighth, Wilkinson in ninth and 10th for Foden. Brown and Wilkinson were able to quickly move forward while Foden took more time.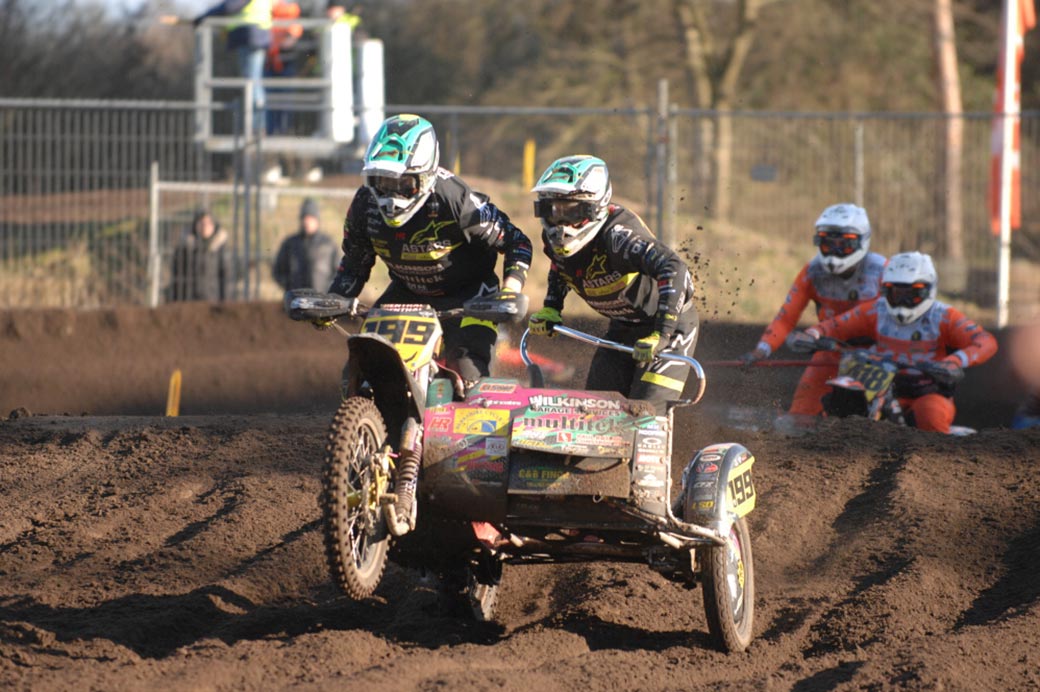 In the second half of the race, Foden found his fellow compatriots and pushed Brown/Horton back to seventh place. Gert van Werven/Ben v.d. Bogaart ran second behind Bax/Cermak for the entire race but was awarded the heat win with the penalty-hit Bax/Cermak demoted to sixth.
With Bax dropping out the top-five results, the three British musketeers all gained a spot.
Now with a compliant bike for the second heat, Bax and his partner won comfortably over Julian Veldman/Glenn Janssens and Gert van Werven/Ben v.d. Bogaart. Brett Wilkinson opened eighth to finish fourth.
Afterwards, Brett was happy with the results, and with some more Dutch races programmed, they are looking forward to the first Grand Prix in Markelo on April 24 with some justifiable confidence.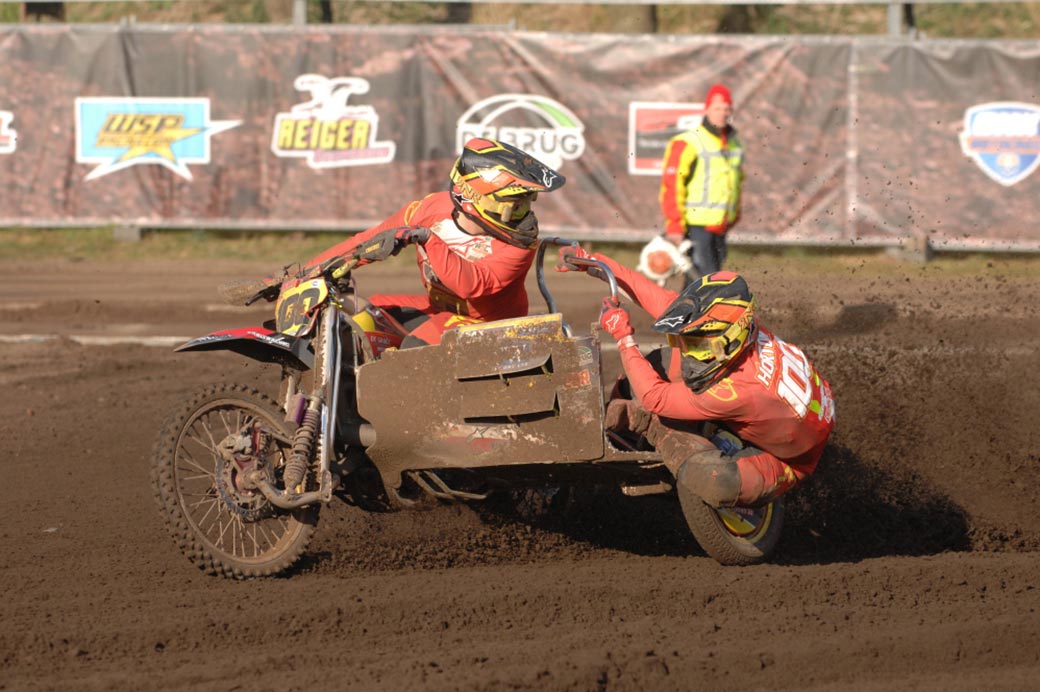 Jake Brown/Paul Horton opened the heat in 10th with Foden/Cooper just behind them. Both were able to improve lap by lap, and in the early stages, that brought Brown up just behind Wilkinson but without the power to attack the fellow Brit.
At the mid-race point, Foden seemed stuck in ninth place before finding another gear to charge to seventh. A battle with Stephan Wijers/Loet van der Putten was lost, leaving Foden/Cooper to settle for eighth. However, fortune smiled, and eighth became seventh, with Wijers suffering a DNF on the final lap.
In the overall results, the British teams just missed the podium while Gert van Werven/Ben v.d. Bogaart won the Dutch Open at Halle.
Brett Wilkinson/Joe Millard ended fourth, Foden/Cooper an excellent fifth and the progressing Jake Brown/Paul Horton sixth.
The next Dutch Open is set to be staged at Lochem this weekend – again with the British teams on the line.
Words: Leen van der Sluis; Images: Bert van der Sluis
Dutch Open Sidecarcross - Halle Overall
| Pos | Rider | R1 | R2 | Total |
| --- | --- | --- | --- | --- |
| 1 | GERT VAN WERVEN & BEN VAN DEN BOGAART | 25 | 20 | 45 |
| 2 | ETIENNE BAX & ONDREJ CERMAK | 15 | 25 | 40 |
| 3 | JUSTIN KEUBEN & DION RIETMAN | 22 | 16 | 38 |
| 4 | BRETT WILKINSOM & JOE MILLARD | 18 | 18 | 36 |
| 5 | DAN FODEN & NATHAN COOPER | 16 | 14 | 30 |
| 6 | JAKE BROWN & PAUL HORTON | 14 | 15 | 29 |
| 7 | FRANK MULDERS & AIVAR VD WIEL | 11 | 13 | 24 |
| 8 | THOM VAN DE LAGEMAAT & ROBBE DE VEENE | 12 | 12 | 24 |
| 9 | TIM PRUMMER & JARNO STEEGMANS | 13 | 11 | 24 |
| 10 | JULIAN VELDMAN & GLENN JANSSENS | - | 22 | 22 |
| 11 | STEPHAN WIJERS & LOET VAN DER PUTTEN | 20 | - | 20 |
| 12 | ADRIAN PETER & NIKI DEBRUYNE | 8 | 10 | 18 |
| 13 | ANDRE KN†BBEN & SIMON LENZ | 7 | 7 | 14 |
| 14 | SAM VELDMAN & SEM LEFERINK | 4 | 9 | 13 |
| 15 | JOACHIM REIMANN & WILLIAM LUTWYLER | 10 | - | 10 |
| 16 | IJEN KOPS & ANDREAS LENHERR | 9 | - | 9 |
| 17 | STACY VAN DER VELDT & ALEX VAN DER VELDT | 3 | 6 | 9 |
| 18 | SVEN WISSELINK & ALEXANDRE TOURBIER | - | 8 | 8 |
| 19 | GLENN VAN DER SCHRAELEN & JENS MANS | 6 | - | 6 |
| 20 | WILFRED VOS & WESSEL SUSEBEEK | 5 | - | 5 |
Latest News