Etienne Bax and Kaspars Stupelis held the red plate at the start of the day in Dardon Gueugnon, France for GP13, and by the end of race one took enough points to secure the championship title.
Qualifying races were great again this week, with five British teams qualified, all with front row places. The weather was mixed with clouds and sun, there were even a few rain showers.
The races were more unpredictable than usual with positions changing and teams crashing together throughout both races.
In race one, the Italian driver Zeno Compalati with French passenger Bastien Chopin took an early lead and drove the race of their lives, cheered on by the massive French crowd.
Heinzer /Betschart initially held second but crashed in the first few laps. This left Varik /Daiders second until they stopped with mechanical issues, these problems were just the start of a difficult day for many on a very demanding track.
In the first few laps, Wilkinson /Humphrey ran hard into a bank while trying to pass, and the pair came to an unplanned and very abrupt stop, leaving them both with hand and wrist damage, they didn't make it to race two.
Bax /Stupelis held third behind Dierckens /Haller but knew the championship was within their grasp they battled to take second but were under pressure from Vanluchene /Van Den Bogaart who pushed hard to stay with their rivals, but a small problem for Bax /Stupelis put them back to fourth.
Vanluchene /Van Den Bogaart grabbed the chance and battled into the lead, looking like it would be a great win until just a few laps from the end when they hit and backmarker, this dropped them outside the top five, leaving Bax /Stupelis to take the win and enough points to secure the world championship title.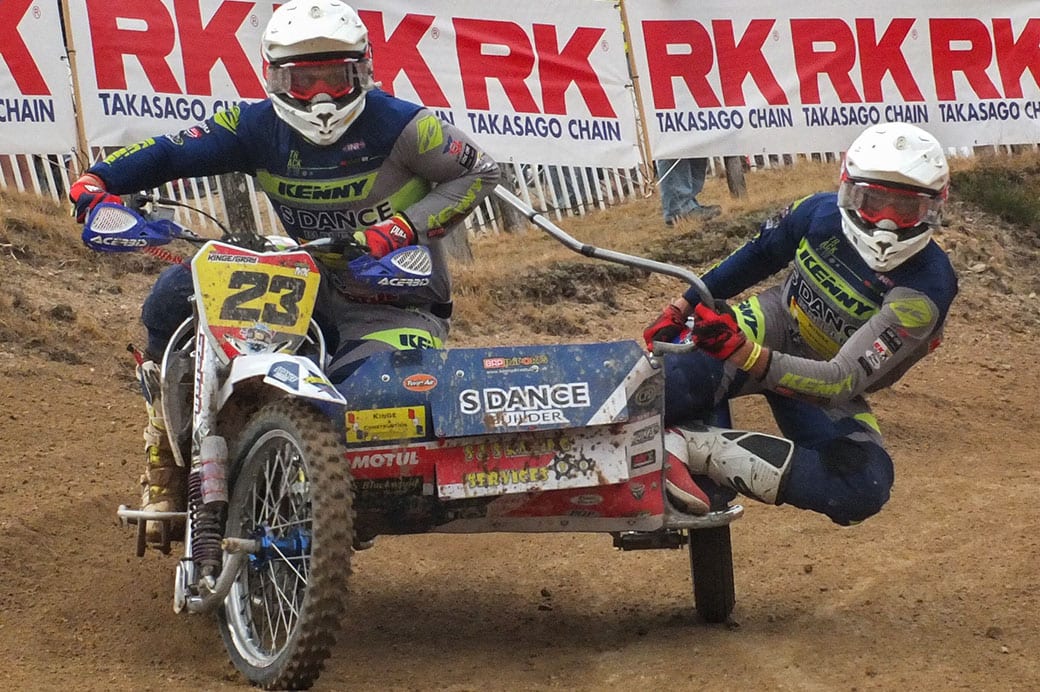 Behind, Compalati /Chopin held a brilliant second with Hermans /Musset on great form battling back from a slow start to take third. With Dierckens /Haller just behind in fourth.
And still the drama continued, Veldman /Janssens crashed into one of the tight bends and Brown /Chamberlain had nowhere to go, the two pairs crashed together with passenger Josh pulling the bike off of Veldman /Janssens before getting going to complete the last part of the last lap.
This left J Brown /Millard in fifth ahead of Vanluchene /Van Den Bogaart and Cerny /Kunnas. Brown /Chamberlain took eighth.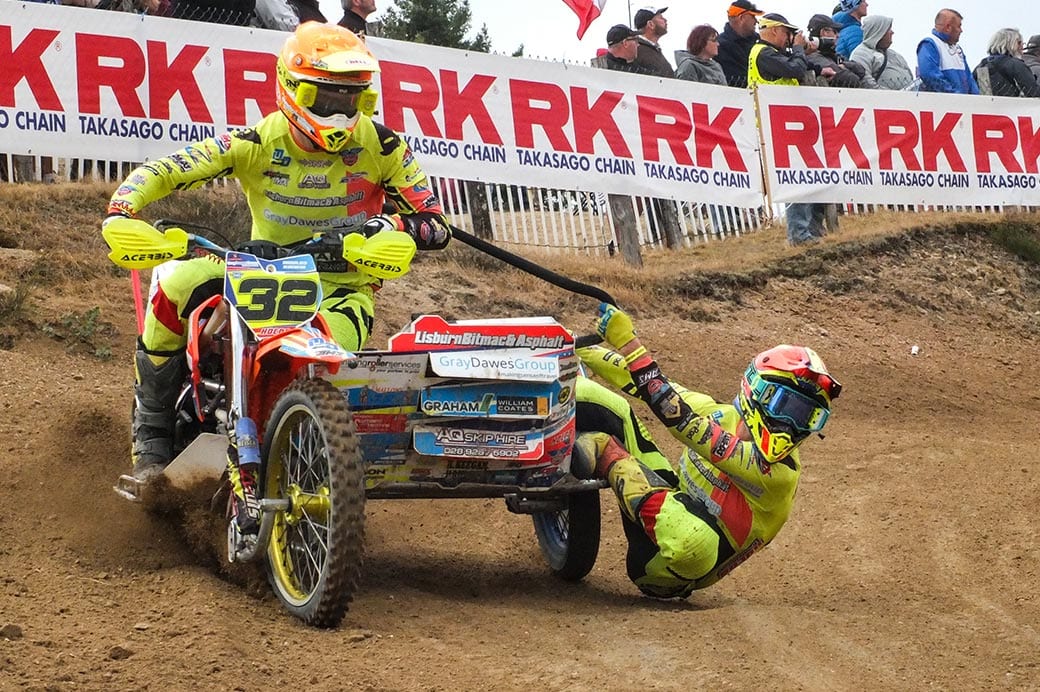 Behind Moulds /Anthony had a brilliant race fighting through from a midfield start to take ninth.
Kinge /Gray had problems during lap one but powered on to take fifteenth.
In race two, Bax /Stupelis took the lead from the start with J Brown /Millard tucked into second and Arne Dierckens with stand-in passenger Andre Haller in third. Bax / Stupelis were looking good for a double win but suffered a rear wheel issue in the final few laps, leaving them out of the race.
Their rivals Vanluchene /Van Den Bogaart used this to their advantage blasting past J Brown /Millard and taking the lead, which gave them the overall win on the day.
J Brown /Millard held a safe second and enough points to take third on the podium. They were ahead of Varik /Daiders and Hermans /Musset with Dierckens /Haller in fifth with a broken rear brake.
Behind Brown /Chamberlain fought back from a lap one problem that left them last and battled so hard to push through to an absolutely amazing sixth place.
The dramas continued when Cerny /Kunnas failed the noise test and lost five places.
Moulds /Anthony has another consistent race starting midfield and challenging hard to take ninth.
Kinge /Gray were just a few places behind until they had a massive tumble off of the big tabletop, they tangled with Lasagne /Lasagne and both teams were splattered across the track, they were soon up but also very battered.
Bax /Stupelis now hold the title with their rivals Vanluchene /Van Den Bogaart in second. They have a 54 point advantage, with only 50 points available at the final round.
Hermans /Musset hold third, and Dierckens /Bax are fourth.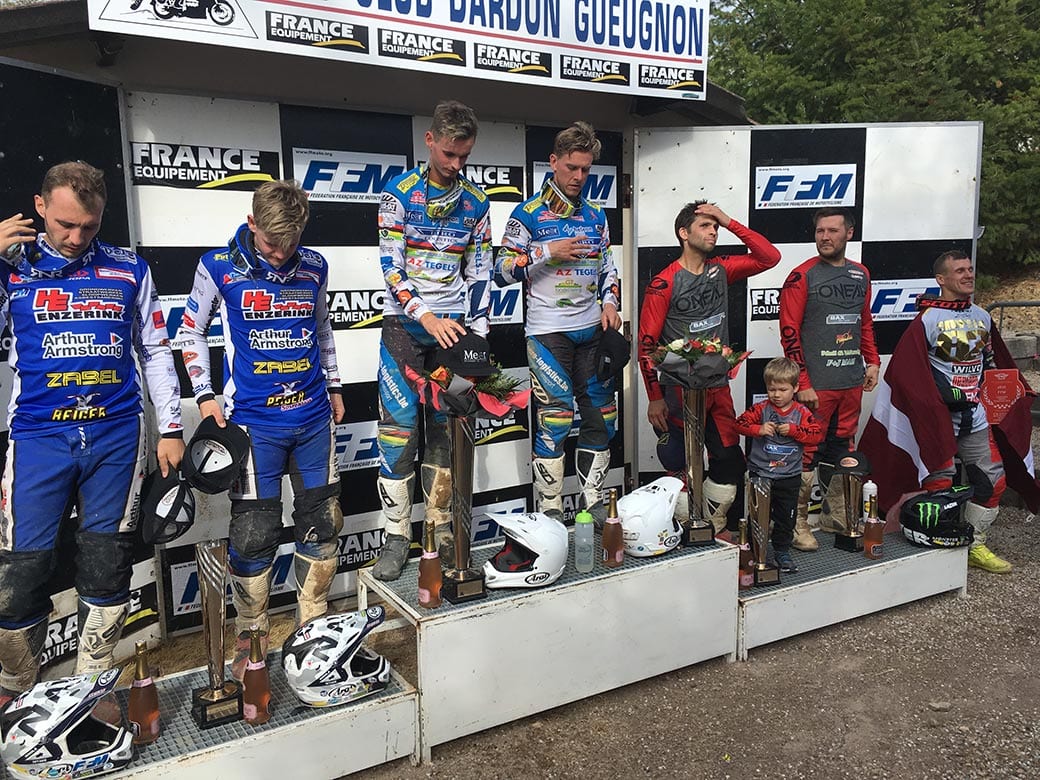 There are two British teams in the top 10 with Stuart Brown /Josh Chamberlain holding fifth, and Jake Brown /Joe Millard are now eighth. There are two more holding top-20 places with George Kinge /Lewis Gray in 17th and Brett Wilkinson /Ryan Humphrey now 18th.
Moulds /Anthony had a brilliant day and are just outside the top 20.
Next week the championship moves to the Rudersberg track in Germany, with this being the fourth consecutive weekend there are many teams who don't have time to recover and won't make it to next weekend, the end of the season has been very busy.
It's the last GP of the season so don't miss it and as always we will keep you updated on all the action.
Overall Results: Sidecarcross GP 13 Dardon Gueugnon – France
Position
Name
1.
2.
Points
1.
Marvin Vanluchene – Ben van den Bogaart
15
25
40
2.
Koen Hermans – Nicolas Musset
22
18
40
3.
Jake Brown – Joe Millard
16
22
38
4.
Arne Dierckens – Robbie Bax
18
16
34
5.
Zeno Compalati – Bastien Chopin
20
11
31
6.
Etienne Bax – Kaspars Stupelis
25
4
29
7.
Stuart Brown – Josh Chamberlain
13
15
28
8.
Gary Moulds – Steven Kirwin
12
12
24
9.
Lukáš Černý – Radek Musil
14
9
23
10.
Kristof Santermans – Konstantinus Beleckas
10
13
23
11.
Kert Varik – Lauris Daiders
–
20
20
12.
Dylan Boussy – Andy Schlinnertz
5
14
19
13.
Justin Keuben – Dion Rietman
7
10
17
14.
Killian Prunier – Evan Prunier
8
5
13
15.
Guennady Auvray – Rodolphe Lebreton
11
–
11
16.
Julian Veldman – Glenn Janssens
9
–
9
17.
Thomas Hamard – Simon Villaines
–
8
8
18.
Christophe Cuche – Maxime Cuche
–
7
7
19.
George Kinge – Lewis Gray
6
–
6
20.
Adrian Peter – Miroslav Zatloukal
–
6
6
21.
Ivo Lasagna – Ivan Lasagna
4
1
5
22.
Bruno Perrussel-Morin – Cyril Clement
2
2
4
23.
Patrick Girardin – Kyllian Guoin
1
3
4
24.
Romaric Chanteloup – Josselyn Chanteloup
3
–
3
Latest News