The gate has dropped and KTM has already grabbed an early advantage as its new 2022 motocross range – that's racier than ever – hits dealer floors this month…
Of all the motorcycle manufacturers currently producing motocross machinery, only KTM is fortunate enough to have its factory racing workshop based on the same sprawling site as its production lines where each model is lovingly put together and then run up on a dyno to make sure it's a-okay!
And that gives KTM a huge advantage as the technology that works on the, erm, works bikes can soon be crossed over to the mass-produced models should the KTM hierarchy see fit. And on the whole, it seems that they do and what wins on Sunday is quite often being fitted to production models a week on Monday. Okay, it's not quite that fast but you get the drift…
KTM is claiming that their 22 MY range is the most complete and technologically advanced line-up of motocross machinery around and features models that cater for all competitive needs. That can't be argued with because if there's a class for it, KTM has a bike for it and some of their models – such as the SX-E5 – have even had classes created for them.
The new SX range promises to bring riders across the world closer to a championship-winning experience. Now I don't know about that but it is fair to say that after decades of seamless flow of information from the race paddock to KTM's production line, the complete 2022 KTM SX range is closer than ever to the bikes winning those titles.
KTM aspires to deliver superior standards of performance and in their updated 2022 livery, the new models set a benchmark for their competitors to try and better.
Built for those who know the importance of a solid technical base, the KTM SX-F model range is the choice of winners. The 2022 four-stroke range is made up of three models that take advantage of all the hard work the factory team and R&D department put in and feature the latest WP XACT suspension technology and advanced technical solutions including Traction Control, Launch Control and variable engine mapping. It almost goes without saying that reliable e-starters come as standard as this is a technology that KTM championed as far back as 15 years ago!
The 2022 450 SX-F remains that extremely compact package that MX1 racer love and now packs an amazing 63 horsepower punch that is delivered in the most effective way possible.
The 250 SX-F has been a class leader in the MX2 class for years and years and KTM continues to push the boundaries of just how much outright speed a 250F can generate.
Open class riders who enjoy the additional agility of a smaller bike but still want more oomph than a 250 four-banger can deliver have got the option of the 350 SX-F which is a long-time favourite with riders who simply want to enjoy their Sunday scrambling.
The two-strokes are back too and for adult racers that means a choice of three bikes – the 125 SX, 150 SX and 250 SX. The 125cc KTM has been a class leader since before Jamie Dobb won his world title on one back in 2001 and to give its performance some modern-day relevance KTM took seven of the top 12 places in the 2020 EMX125 series. Four of the other spots were from manufacturers in the same family. It's safe to say this thing is good.
People say the 150 is only 25ccs more than the 125 – that's true enough but at the same time that's 20 per cent and we all see that as a significant amount when we have to pay VAT. So, the difference might not sound a lot but those 25 cubes make a big difference and allow competent 150 riders to compete with 250 four-strokes. While that's not helpful in professional or most national series, at club events and the like it makes the 150 a viable option for 125 riders who don't want to spend thousands finding additional horsepower.
KTM's 250 two-stroke is an absolute weapon and has the same lightweight feel as the other KTM two-stroke models but with a lot more bark. That said, the latest generation is easier to ride than ever but still delivers a million smiles per mile – if you've never ridden or owned a 250 two-stroke now is the time and they're becoming more and more prevalent across the board as they're just more fun to ride!
All the full-size 2022 SXs come with a frame in that racing orange in colour to further reinforce the proximity to the championship-winning machines that the Red Bull KTM Factory Racing stars do their thing on. The fresh frame colouring compliments the new blue seat cover and fresh colours of the BNGs (Bold New Graphics) to further hammer the point home.
Youth riders who want the KTM edge aren't forgotten either and KTM's 2022 SX range includes a collection of Sportminicycles that share the same race-driven development approach as KTM's full-size bikes. An all-encompassing range it's possible for Junior to climb on an SX-E5 as soon as they're ready to go and then stay orange as they grow and develop with the KTM 50 SX, KTM 50 SX Factory Edition (which KTM will be bringing a limited run of 50 into the UK) KTM 65 SX and KTM 85 SX models.
All of us parents like to keep our kiddiewinkles as safe as possible so it's comforting that KTM uses class-leading performance and safety products – state-of-the-art WP suspension and high-end brakes. Weight is also a major consideration and if a gram can be shaved here or there then it has been. These aren't just small bikes – these are small-scale racing machines.
The 2022 KTM SX models will be available at authorised KTM dealers from this month onwards. Best pre-order yours sooner rather than later…
Pro tested!
The stock bikes get ridden and rated by factory racers
There are endless perks to being a KTM factory racer and even when their work is done the fun never ends. Factory aces Tom Vialle and Jeffrey Herlings were fortunate enough to take the pre-production 125 SX and 450 SX-F for a spin at Red Sand where they logged some very decent lap times much to the annoyance of some visiting pro racers who were blown away by the pair of world champions who themselves were blown away by the stock bikes' performance.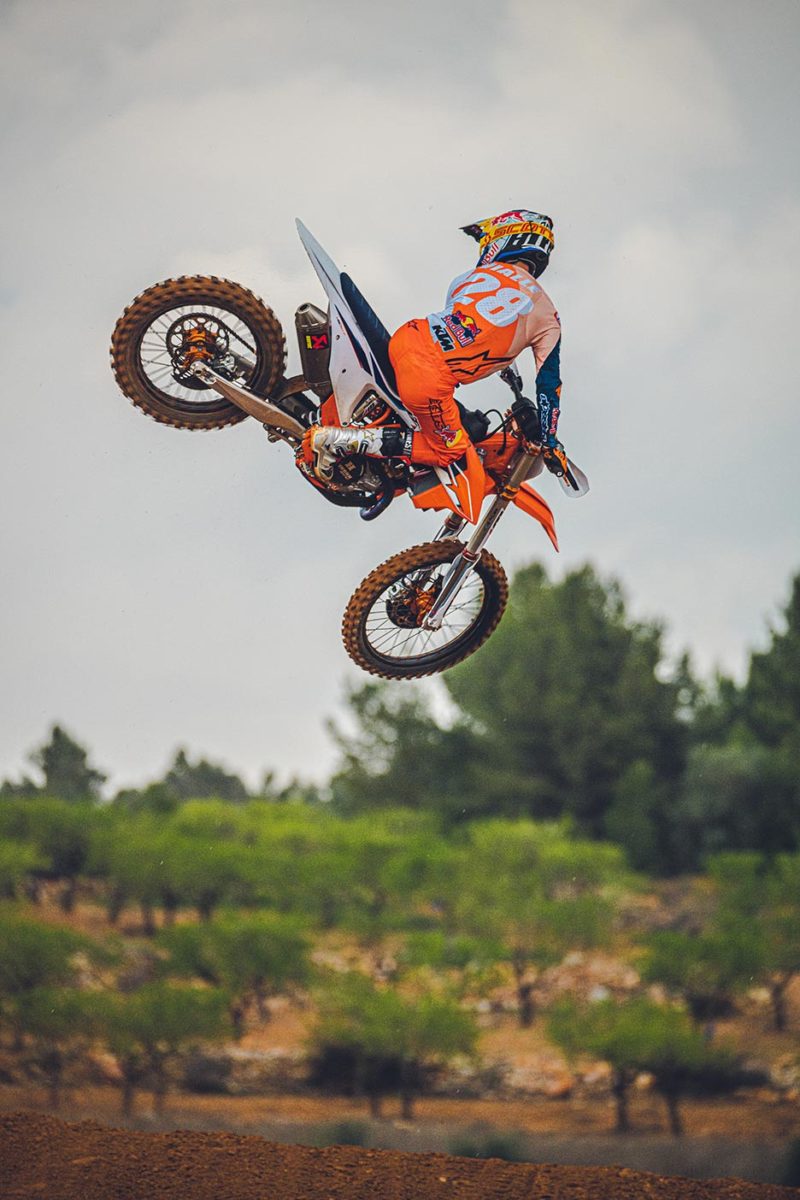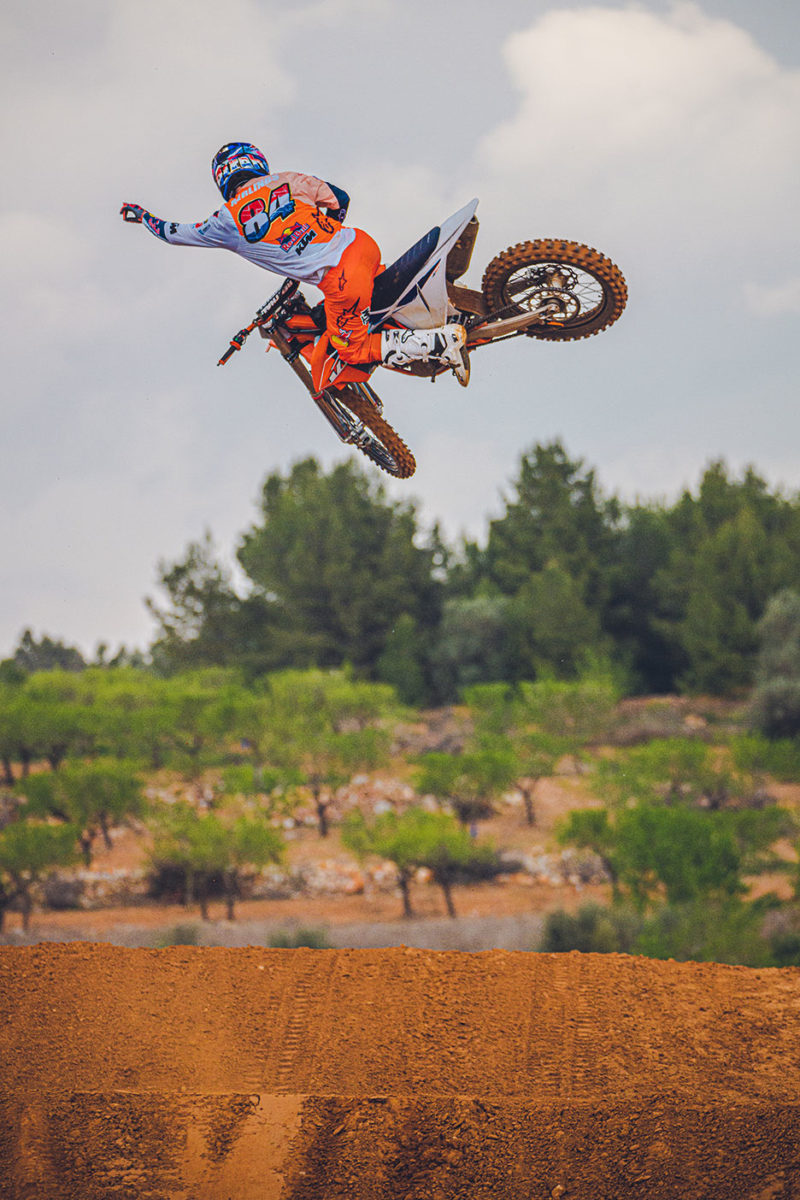 Mission Statement!
What the 2022 KTMs are all about straight from the horse's mouth…
Joachim Sauer is KTM's off-road product manager and is the man responsible for giving us motocross racers what we want from a range of bikes. And fortunately for us, it looks like he's instinctively delivered the good stuff…
"The new SX range is all about the proximity to our race machinery and the bikes that are doing the business on racetracks around the continents," says Joachim confidently. "We've been refining these packages for several years and we feel the connection – both aesthetically but also in terms of performance – is now closer than ever.
"To prove our point, we gave production bikes to MXGP and MX2 World Champions and I'm glad to confirm they were surprised and impressed with their performance.
"It was fitting to give the 2022 models an even 'racier' look with the blue and orange design and to remind riders and fans that there isn't a more ready to race motocross range in any paddock anywhere."
How much and where from
| 2022 KTM SX Price List | | | | |
| --- | --- | --- | --- | --- |
| SX-E 5 2022 | 50 SX Factory Edition 2022 | SX-E 5 2022 | 150 SX 2022 | 350 SX-F 2022 |
| £4,699.00 | £4,099.00 | £4,699.00 | £7,699.00 | £8,649.00 |
| 50 SX Mini 2022 | 65 SX 2022 | 85 SX BW 2022 | 250 SX 2022 | 450 SX-F 2022 |
| £3,699.00 | £4,599.00 | £5,599.00 | £8,149.00 | £8,799.00 |
| 50 SX 2022 | 85 SX SW 2022 | 125 SX 2022 | 250 SX-F 2022 | |
| £3,699.00 | £5,599.00 | £7,499.00 | £8,499.00 | |
Engine
KTM's 4-Stroke and 2-Stroke engine technology has earned reputations for their mud-ripping potency and their increased reliability.
Single cylinder, liquid cooled four-valve DOHC with finger followers (rocker levers for the KTM 450 SX-F) form the 4-Stroke models with Keihin fuel injection, EMS and 44 mm throttle bodies across the board. Two oil pumps with pressure lubrication, a 7-Liter fuel tank and lightweight aluminium silencers are other consistent features.
Perfectly complying with the high-performance requirements of these models, the 2022 KTM 250 SX-F and KTM 350 SX-F have been fitted with an updated friction bearing on their counter-balancer shafts.
The 17 kg 2-Stroke engine for the KTM 125 SX offers enviable snappy throttle response from the get-go. The same raspy retort characterizes the KTM 150 SX, and twin-valve KTM 250 SX single cylinder that makes use of a balancer shaft to minimize vibration. The 2-Stroke models use a wet multi-disc DS clutch (DDS on the KTM 250 SX), Brembo hydraulics and Kokusan ignition/engine management.
Chassis
An acquainted KTM SX rider will already know about the acute track surface connection and the nimble willingness of both the advanced 4-Stroke and flighty 2-Stroke chassis. Exploiting KTM's many years of experience and knowledge with CroMo steel fabrication – and the progressive techniques still being made with the material – each KTM SX uses a double cradle frame. Around this efficient package, valuable weight is saved with a tough aluminium subframe and Neken aluminium handlebar. The geometry is set at 63.9 degrees on the steering head with a 22 mm offset on the triple clamp for all the bikes. Seat height is also uniform and pegged at 950 mm.
Suspension
KTM's decades-old association with WP suspension continues to produce some of the most advanced and reliable suspension material on the Offroad market today. The marriage of the KTM SX design and the WP suspension technology and knowledge endows the KTM SX package with even more competitiveness. WP XACT 48 mm forks bring 310 mm of travel while the WP XACT shock clocks 300 mm. Low friction seals are a key element of the 2022 KTM SX models and firm stock settings come as standard in order to create the sensation of confidence at speed.
Design
The KTM SX models are representative of pure design-function thinking. The bikes are shaped for one thing: maximum performance. This means the ergonomics and the contact points are finely tuned for the most efficient movement, grip and harmony between rider and motorcycle. The profile of the bodywork, saddle, tank and the general riding position comes directly from feedback at the highest level of racing. The Red Bull KTM Factory Racing riders are a crucial part of the testing cycle. Although the KTM SX bikes benefit from this elite input the riding stance of all models is universalized to suit a spread of height and body shapes and then can also be further adjusted. An example can be seen with the handlebars and several optional positions. Pegs and levers are one of the first areas that are normally personalized to taste as well.
Technology
The premium SX-F models provide the latest wares of Traction Control and Launch Control as well as the possibility to customize engine settings and get suspension set-up recommendations via your smartphone using the optional Connectivity Unit.
Latest News