Monster Energy Kawasaki's Jason Anderson grabbed his fourth win of the 2022 Monster Energy AMA Supercross season on a high-speed track that stretched in front of the Atlanta Motor Speedway grandstands.
Series points leader Monster Energy Star Racing Yamaha's Eli Tomac gave up three points to Anderson in the title hunt with a second-place ride on the rutty Atlanta track. Team Honda HRC's Chase Sexton held the lead early but a crash relegated him to a hard-fought third-place finish. The 250SX Class held the first of two 2022 Dave Coombs Sr. East/West Showdown events and Team Honda HRC's Hunter Lawrence took the honours over the top riders from both regions.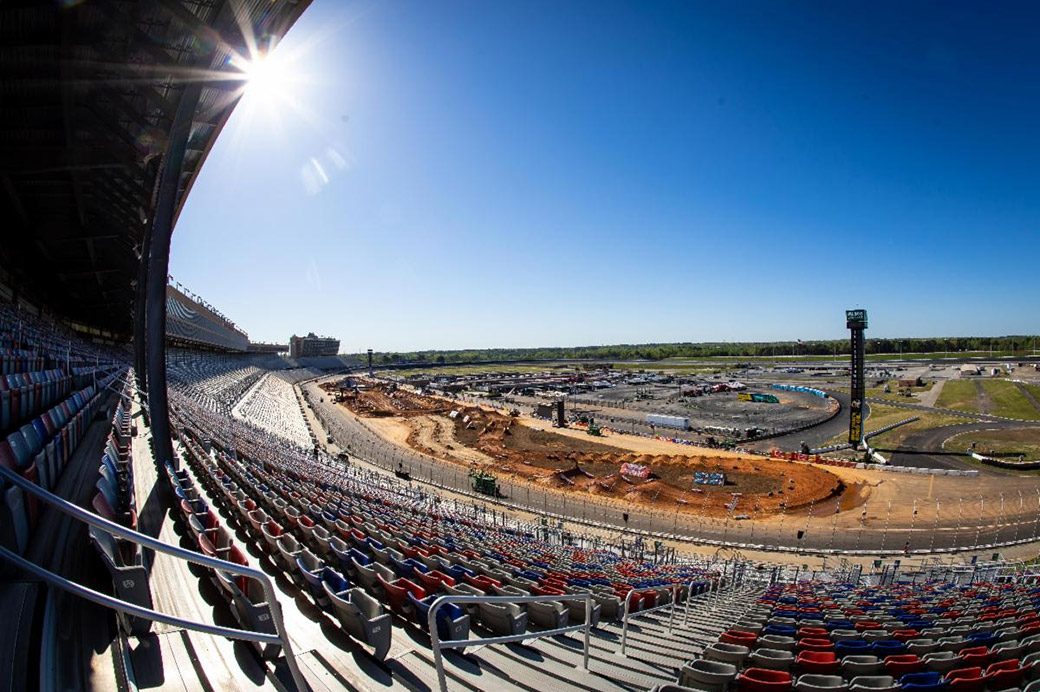 Troy Lee Designs Red Bull GASGAS Factory Racing's Justin Barcia grabbed the holeshot in the 450SX Class Main Event with Sexton, Anderson, Tomac, and Red Bull KTM's Cooper Webb directly behind. Sexton put on a move for the lead just over two minutes into the 20-minute plus one lap race. After a short skirmish Sexton took over the spot from Barcia. Anderson was past Barcia soon after, but Sexton was already sprinting ahead to amass a two-second lead.
What looked like a win for Sexton evaporated when the Honda rider crashed awkwardly in a bowl turn after one of the track's sand sections. Anderson took the lead while Sexton remounted a charge from sixth place with fifteen minutes still on the race clock. Shortly after that Barcia went down, and the running order up front was suddenly Anderson, Webb, then Tomac. With just under six minutes left on the race clock Tomac flew past Webb but had over eight seconds to make up on this nearest rival in the championship standings if he hoped for a win. With just over a minute left on the clock Sexton passed Webb to get back into the top three behind Anderson and Tomac.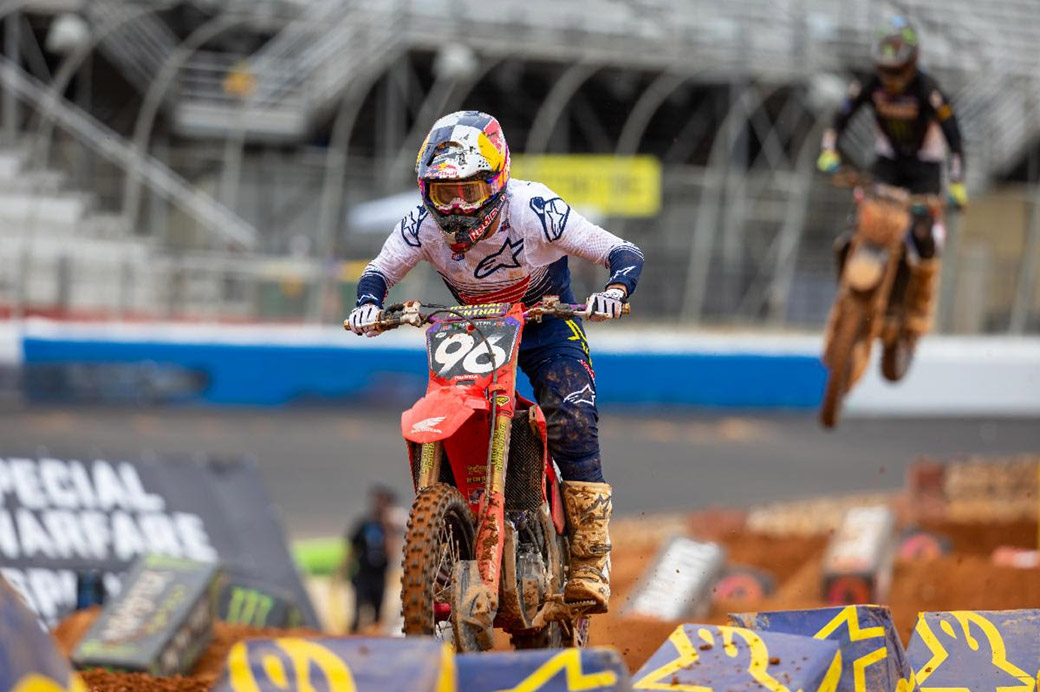 In the unique Dave Coombs Sr. East/West Showdown that pits the top riders from both regions against one another, Monster Energy Pro Circuit Kawasaki's Jo Shimoda jumped into the lead with a holeshot ahead of Rockstar Energy Husqvarna Factory Racing's RJ Hampshire and Hunter Lawrence. Eastern Regional 250SX Class points leader Team Honda HRC's Jett Lawrence sat in sixth and Western Regional 250SX Class points leader Monster Energy Star Racing Yamaha's Christian Craig crossed the holeshot stripe in eighth.
Hunter Lawrence was quickly into second place after a battle with Hampshire while his brother Jett crashed exiting the whoops and dropped outside of the top ten. Craig steadily moved forward through the pack while Jett charged frantically to climb back toward the front. Six minutes into the 15-minute plus one lap race Hunter Lawrence took over the lead and was never challenged for it. One lap later Craig slipped into second and held it to the finish. With two laps remaining Jett Lawrence reached Shimoda and the two had a few near tangles. Lawrence emerged with the final podium position and Shimoda held on for fourth.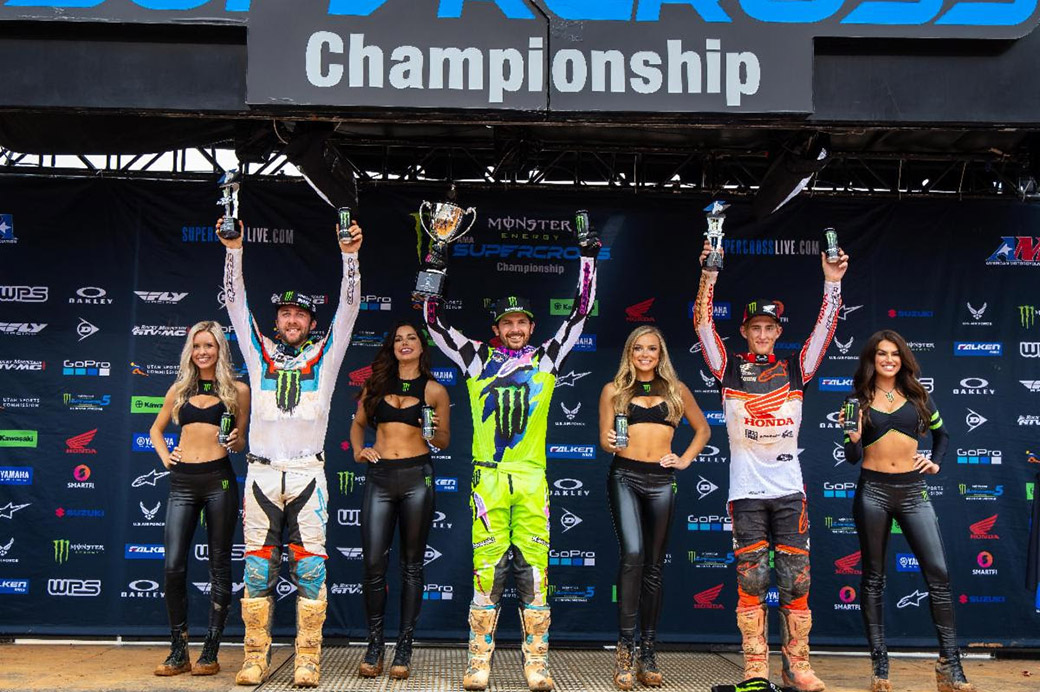 450SX Class Results
1. Jason Anderson, Rio Rancho, N.Mex., Kawasaki
2. Eli Tomac, Cortez, Colo., Yamaha
3. Chase Sexton, Clermont, Fla., Honda
4. Cooper Webb, Newport, N.C., KTM
5. Malcolm Stewart, Murrieta, Calif., Husqvarna
6. Justin Barcia, Greenville, Fla., GASGAS
7. Justin Brayton, Charlotte, N.C., Honda
8. Kyle Chisholm, Valrico, Fla., Yamaha
9. Brandon Hartranft, Brick, N.J., Suzuki
10. Marvin Musquin, Corona, Calif., KTM
450SX Class Championship Standings
1. Eli Tomac, Cortez, Colo., Yamaha (325)
2. Jason Anderson, Rio Rancho, N.Mex., Kawasaki (272)
3. Justin Barcia, Greenville, Fla., GASGAS (257)
4. Malcolm Stewart, Murrieta, Calif., Husqvarna (253)
5. Marvin Musquin, Corona, Calif., KTM (245)
6. Chase Sexton, Clermont, Fla., Honda (227)
7. Cooper Webb, Newport, N.C., KTM (227)
8. Dean Wilson, Murrieta, Calif., Husqvarna (152)
9. Dylan Ferrandis, Tallahassee, Fla., Yamaha (141)
10. Brandon Hartranft, Brick, N.J., Suzuki (139)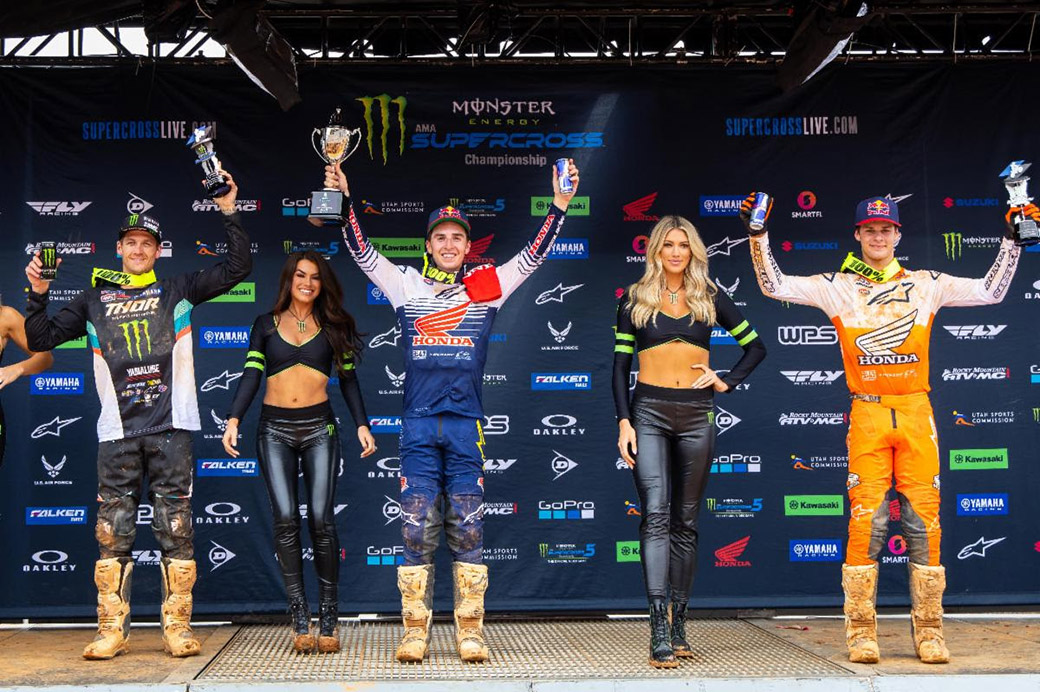 Dave Coombs Sr. East/West Showdown 250SX Class Results
1. Hunter Lawrence, Wesley Chapel, Fla., Honda
2. Christian Craig, Temecula, Calif., Yamaha
3. Jett Lawrence, Wesley Chapel, Fla., Honda
4. Jo Shimoda, Menifee, Calif., Kawasaki
5. Nate Thrasher, Livingston, Tenn., Yamaha
6. Michael Mosiman, Minneaola, Fla., GASGAS
7. Austin Forkner, Richards, Mo., Kawasaki
8. RJ Hampshire, Minneola, Fla., Husqvarna
9. Mitchell Oldenburg, Aledo, Tex., Honda
10. Pierce Brown, Sandy, Utah, GASGAS
Western Regional 250SX Class Championship Standings
1. Christian Craig, Temecula, Calif., Yamaha (194)
2. Hunter Lawrence, Wesley Chapel, Fla., Honda (171)
3. Michael Mosiman, Minneaola, Fla., GASGAS (158)
4. Vince Friese, Menifee, Calif., Honda (127)
5. Jo Shimoda, Menifee, Calif., Kawasaki (125)
6. Nate Thrasher, Livingston, Tenn., Yamaha (112)
7. Garrett Marchbanks, Coalville, Utah, Yamaha (99)
8. Robbie Wageman, Newhall, Calif., Yamaha (94)
9. Chris Blose, Phoenix, Ariz., GASGAS (90)
10. Carson Brown, Ravensdale, Wash., KTM (83)
Eastern Regional 250SX Class Championship Standings
1. Jett Lawrence, Wesley Chapel, Fla., Honda (169)
2. RJ Hampshire, Minneola, Fla., Husqvarna (122)
3. Cameron McAdoo, Sioux City, Iowa, Kawasaki (114)
4. Pierce Brown, Sandy, Utah, GASGAS (107)
5. Mitchell Oldenburg, Aledo, Tex., Honda (103)
6. Enzo Lopes, Indian Trail, N.C., Yamaha (100)
7. Jordon Smith, Ochlocknee, Ga., Honda (95)
8. Jace Owen, Mattoon, Ill., Yamaha (77)
9. Phillip Nicoletti, Bethel, N.Y., Yamaha (76)
10. Derek Drake, Lake Elsinore, Caif., Suzuki (68)