The Minneapolis Supercross was a weekend of highs and lows for Team Honda HRC, with Jett Lawrence taking a convincing win in the first AMA Supercross 250SX East race of the 2022 season, while teammates Ken Roczen and Chase Sexton suffered crashes in the 450SX main event, Sexton's fall coming after an otherwise dominant performance that saw him lead a total of 17 laps.
When the 250SX East Region class main event kicked off, Lawrence and Austin Forkner battled for the lead. With less than a minute off the clock, Lawrence made an aggressive lap-two pass aboard his CRF250R, and the 18-year-old Australian dominated from there, turning in a seemingly effortless performance to earn the fourth 250SX win of his young career.
Jett Lawrence: "Today was a great day of racing. I had so much fun being out here and riding; the bike was awesome, and the track was actually a lot of fun. In practice, I just took my time and tried to not do anything crazy. I got a decent start in the heat race but got caught up a bit in the first turn, so I had to make some good passes to get second in that. For the main event, I just put myself in a really good spot to get the win, and it all came together. Overall, it was a good day and I'm super pumped; hopefully we can do the same at the rest of the rounds."
As the gate dropped in the 450SX class main event, Sexton found himself in second with his eyes set on the leading Cooper Webb. Just over five minutes in, the 22-year-old made an impressive pass in the turn after the finish. Sexton led 17 laps of the 20-minute-plus-one-lap race before he tucked his front wheel in a rut on a jump face. With only two laps remaining, Sexton was tossed into the following jump. The Illinois native struggled to get up, and he was escorted off the track to be evaluated at the Alpinestars Medical Unit. Although banged up, Sexton felt relatively well when he left the venue, but officials will have him undergo concussion protocol this week.
Meanwhile, Roczen contended for a podium position early on but suffered a crash after landing from a triple. The German remounted and salvaged an eighth-place result. Sexton now sits sixth in the title chase, while Roczen remains in eighth.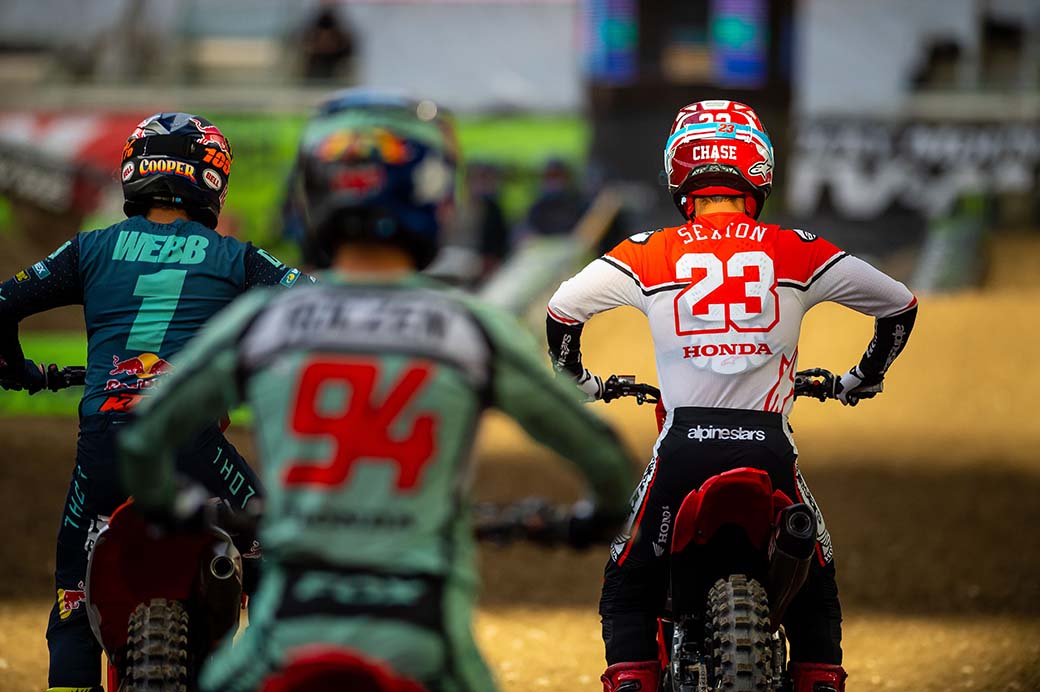 Ken Roczen: "The first East Coast round was a tough night; the track was really difficult. The dirt was really tacky, especially in practice, where the track was super rutty and just really, really rough. I wouldn't say I was the most comfortable, but this was the first time that I didn't make any changes to the bike; I just tried to get used to it. This was the best I've been in the whoops, so that was a big plus for us, too. I had a decent start in the main event but got passed by Marvin [Musquin] early on. I was behind him for quite some time, but we kept a fairly close distance to the leader. That was good until I tried to pass and jumped a little bit too far to the left after the triple. There was some loose dirt there, and as soon as I landed I washed the front end pretty bad and went down. My bars were tweaked quite a bit and we only had a few minutes to go, so there wasn't much we could do from there. It might not be the result that we wanted but there are some positives to take away compared to the previous weekend, so we're going to build on that. It's my first week back in Florida now, which I'm really excited for, and I think it will be a big help in the upcoming events."
Team manager Lars Lindstrom: "This was an extremely bittersweet race. Jett rode fantastic and did everything correctly to win the first round of the 250SX East Coast series. Our 450 riders were great all day and proved that with a 1-3 finish in the first heat race, and then Chase was dominating the main event until his crash with just a couple laps to go. I was gutted for him and for the team because the victory was so close for all of us; it would've been incredible to win both the 250 and 450 main events. Kenny was riding great as well, and was in the mix for a podium until he landed in the marbles off the triple and crashed. I think we made good improvements with his bike this week, and I know we can get him back on top soon. The whole weekend was a pretty difficult one with sub-zero temperatures outside and the team shuffling between the indoor pits and the truck for food and other things. I want to give a shout-out to the truck drivers, who had to deal with the extreme temperatures, which brings new problems and can cause issues with the trucks. The drivers kicked butt and made sure that everything worked properly the entire time."