The ninth round of the 2022 AMA Supercross series was also the 52nd Daytona Supercross at Daytona International Speedway, where Team Honda HRC's Jett Lawrence – in his first racing appearance at the World Center of Racing – took a 250SX East Heat-race win before charging to a dominant Main-event victory.
With all four Team Honda HRC riders having home bases in Florida, the squad headed straight from the Arlington round to the Sunshine State, where they tested and prepared south of Daytona during the week.
West Region rider Hunter Lawrence was on hand at Daytona to support his younger brother Jett and the team.
In the Daytona Main Event, Lawrence took over the lead by turn two and quickly established a decent gap. The young Australian rode flawlessly to the chequers with a winning margin of over 14 seconds, taking sole possession of the points lead and the red plate. It was the fifth 250SX win of his career, the second in the three East Region rounds held so far this year, and the fourth in his last six indoor races going back to last season.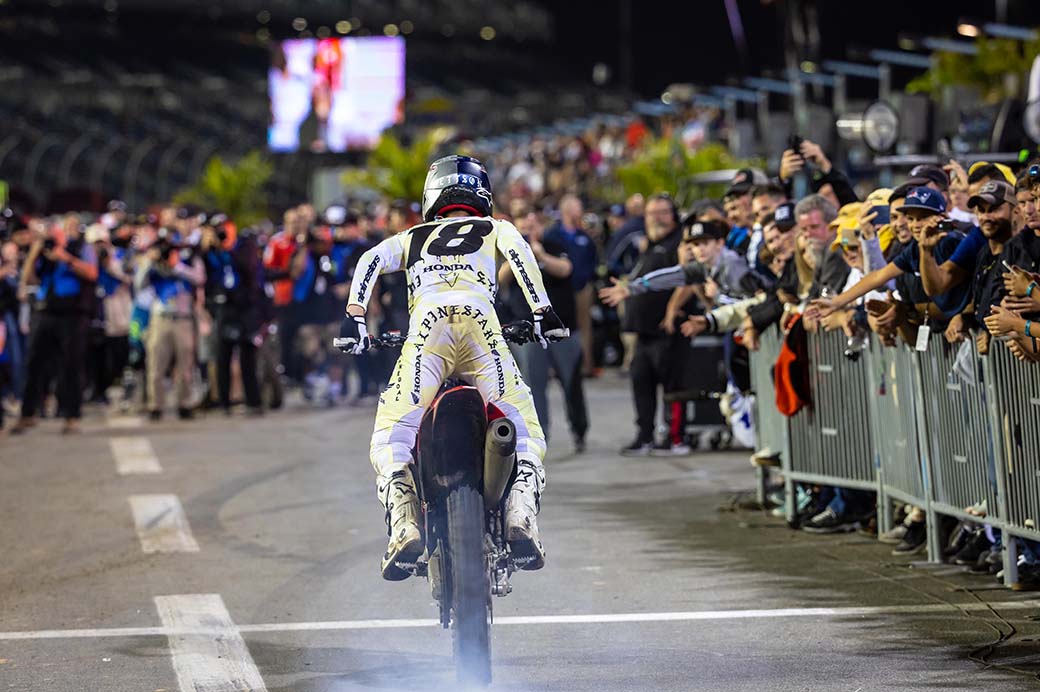 "Even apart from winning, I think the first time here at Daytona is just a great experience to have, with the fans being right there," said Lawrence. "It's as close as we get to feeling like a NASCAR race; it's even in the same area, although we might not be going as fast. I can say that as a kid, I was always dreaming of riding the Daytona track, and today topped it off with a win. The bike's been feeling very forgiving and wanting to go fast, which is nice.
"Stilez [Robertson] was right there for a long time in the Main – I could see him out of the corner of my eye, and it was keeping me focused.
"I'm pretty pumped to get the win. It was definitely a nice, calm weekend – a lot better than last weekend – at least I can go to sleep easier tonight."
In the 450SX class, Chase Sexton and Ken Roczen both earned third-place finishes in their respective Heat Races before Sexton secured the same result in the Main Event – the seventh premier-class podium of his young career – while Roczen finished seventh.
Sexton wasn't happy with his Main-event start but gained valuable positions early on as a result of a Jason Anderson/Malcolm Stewart collision.
For the first six laps, Sexton pursued the leading Cooper Webb, and although the 22-year-old lost a spot to eventual-winner Eli Tomac with 11 and a half minutes on the clock, he continued to ride the rough track with poise and control, taking the chequered flag in third place. The #23 now sits fifth in the title chase.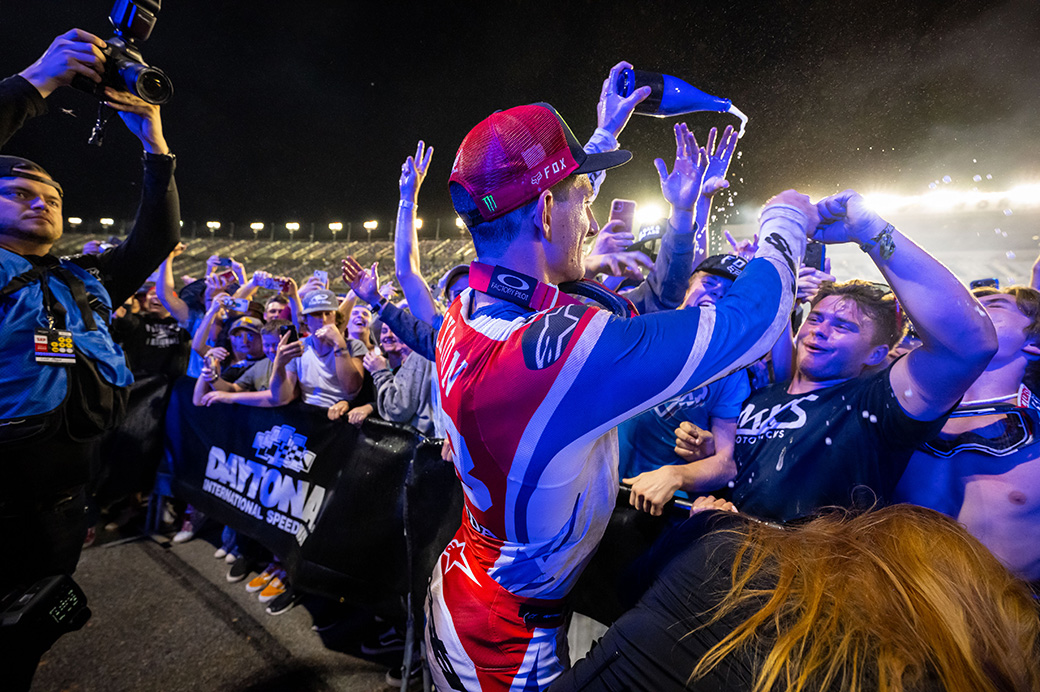 "That's the gnarliest track I've raced at since I went to the big class – definitely a different animal," exclaimed Sexton. "I didn't really have that great of a start, but I kind of made my way to where I needed to be. I felt like I was going good at the beginning, and then the track broke down.
"[Eli Tomac and Cooper Webb] kind of stayed the same, and I got a little bit worse – I just wasn't really flowing. Eli got by me and then [Justin] Barcia was behind me. In the middle of the race, I started riding a little bit better – I started finding a little bit of a flow and started clicking off decent laps. I'm happy to be back on the podium after a few rougher weeks."
Meanwhile, Roczen got out of the gate well, running as high as fifth early on before slipping to seventh place.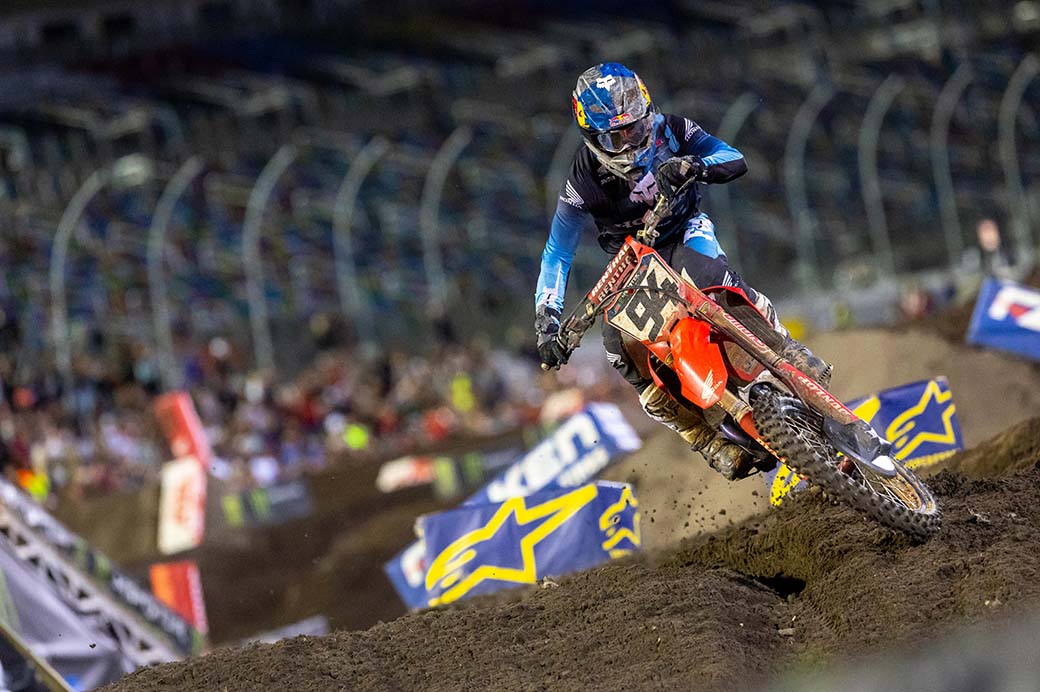 "Daytona is always one of the most fun races to go to," said Roczen. "The track is brutal, and overall the vibe of the place is just always very special. I just love the venue, and I love coming here.
"I had a really good day throughout the day. I was somewhat up front with the other guys in practice and qualifying, and I was enjoying my riding. Nothing different on the result board, but it was fun."
Team Manager Lars Lindstrom said: "Today was a step in the right direction for us as a team. Jett was able to get back on track to where he should be and was incredible all day – I don't think anyone had a chance, to be honest.
"The 450 guys were a threat all day, and it was great to see Kenny looking like himself in practice and the heat. Chase was able to make some good moves on the first lap of the main and rode well but unfortunately had a few small issues that kept him from fighting for the win, although a podium was a great finish after the last few weekends he's had.
"We're doing everything we can to try to help all of our riders succeed, and I think it's starting to pay off. One thing we're not going to do is give up, and we'll always give every one of our riders 100 per cent effort. This week was pretty cool for me, because I stayed in Florida and was able to meet Chase's family, Jett and Hunter's family, and see Kenny's dad and family friend Rolf, who we have a long relationship with."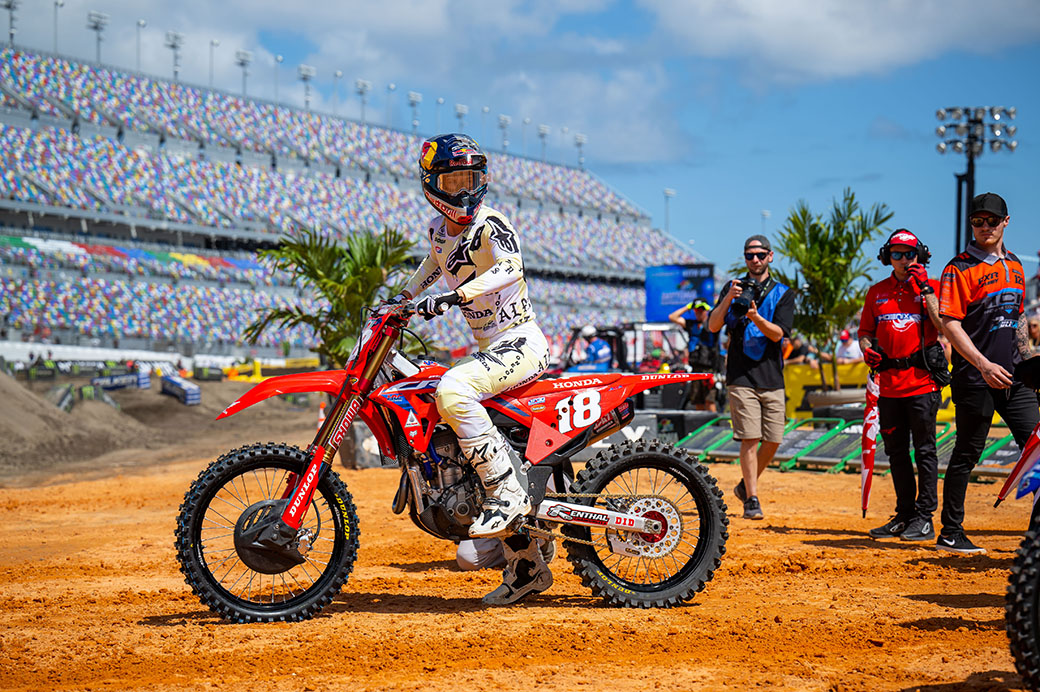 Lawrence now holds a five-point advantage in the 250SX East title chase, while Sexton and Rozcen sit fifth and ninth in the 450SX class, respectively.
​​Team Honda HRC will now travel to Detroit for round 10 of the premier class racing and round 4 of the 250SX East Region class.