If you have been wondering why there is a delay to the Houston 2 450 Supercross results, you are not on your own.
There are many Supercross fans searching the web looking for the official 450SX Houston 2 results but hitting a brick wall.
The reason the AMA/FIM have not released results is down to the investigating of red flag violations — note that this appears to be more than one rider.
In Feld's official Houston 2 race report, they released the top-three finishers so it appears — but unconfirmed — that they are safe. However, they omitted any further 450SX results.
Feld says that the "450SX Class results had not been certified due to pending appeals with the AMA and FIM regarding flag rule infractions" but has not revealed which riders this impacts.
There has been speculation and rumour on which riders are involved with infractions and appeals but without more information, TMX is not able to comment at this time.
We can say that if the results stand, then Ken Roczen will be on top of the points after two rounds, but we'll see.
This story will be updated as we get more. Please refresh the page for the latest version. Updates will show below…
Update January 20, 18:33 GMT: The AMA has confirmed the rule breach, and that four riders have been penalised. These are Roczen, Anderson, Davalos and Friese. "Per AMA Rule 4.16.E.9.C, four riders in Tuesday's Houston Supercross have been penalised for jumping on a red cross flag. The penalty for each rider is the loss of championship points and purse equal to two positions for that race, plus two additional points."
Update January 20, 14:30 GMT: We are still working our way through the results but it appears that Ken Roczen and Jason Anderson have points deducted for jumping on Red Cross flags while Chase Sexton was down. Justin Barcia tops the points standings on 40 points, rookie Dylan Ferrandis is second, just one point back. Justin Brayton is third one further point back with 38 — the same points total as Marvin Musquin. Kenny is now down to fifth. But with 37 points is still right there. As is Eli Tomac in sixth on 36 points.
Anderson is down in 13th with just 19 points to show for the opening two rounds.
Interestingly, neither Roczen nor Anderson have been docked positions.
Update January 20, 17:26 GMT: Now that we have had more time to look at the results, we can see that Martin Davalos and Vince Friese have also been penalised.
Houston 2 450SX Main Event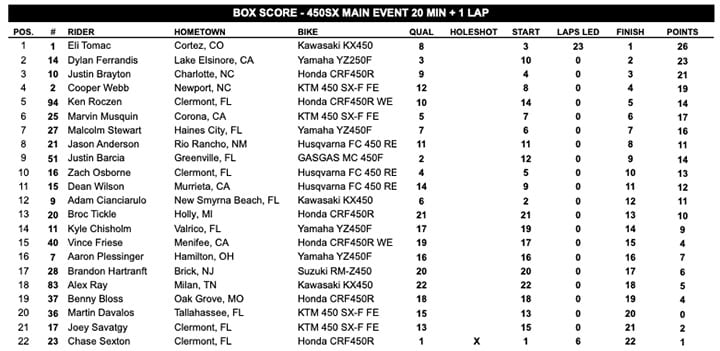 2021 450SX points standings after two rounds