Supercross hits Paris this weekend for the first time in four years and the highest profile indoor event in Europe boasts its usual spectacular line-up and show.
Topping the bill is Vegas millionaire and Red Bull Straight Rhythm winner Marvin Musquin but he faces US opposition from Zach Osborne, Cole Seely and Jeremy Martin along with Scotland's Dean Wilson, hot from his first-night success in Sydney.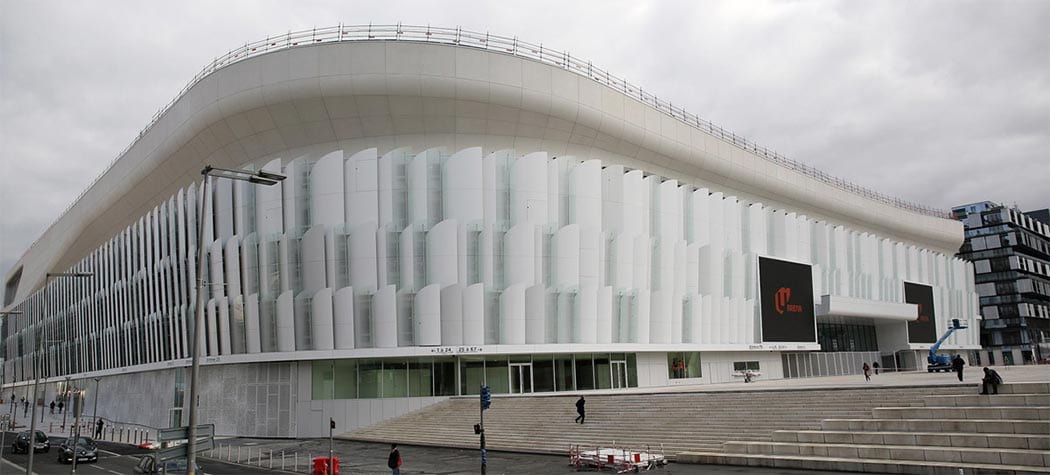 Completing the French line-up will be Jordi Tixier, making his debut for Bos KTM, Stuttgart winner Cedric Soubeyras, AX champion Thomas Ramette, Fabien Izoird, Cyrille Coulon and all the regular suspects from the strong domestic series in a three-race SX1 programme.
SX2 will feature Benoit Paturel, Brian Hsu, Iker Larranaga and Josh Hill on the Alta Redshift E-bike who's taking on Thomas Do and the French regulars. And, of course, there will be the usual top-grade FMX show.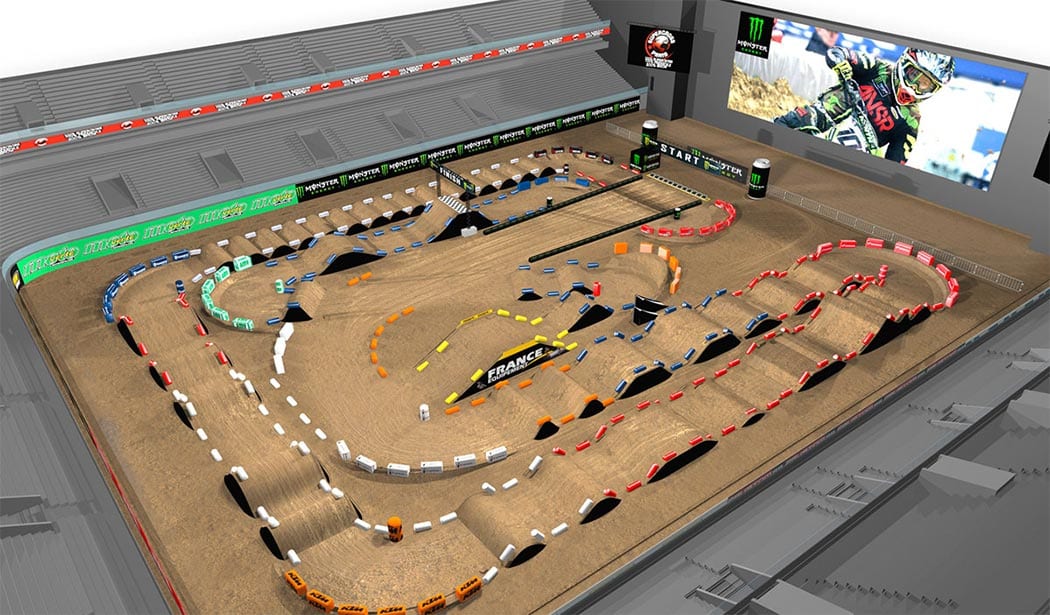 The show in the brand new U-Arena in Nanterre starts at 8pm on Saturday and 3pm on Sunday.
Not present this weekend in Paris will be Greg Aranda who had to withdraw from racing in Stuttgart last weekend when it became apparent that a plate in his hand had come loose, requiring an operation.
SX1 450 Open
| Nr | Rider | Nat | Team/Brand |
| --- | --- | --- | --- |
| 2 | Florent RICHIER | France | Suzuki JPM |
| 3 | Nicolas AUBIN | France | Amexio Suzuki |
| 5 | Cyrille COULON | France | Suzuki SR 75 World Team |
| 6 | Jeremy MARTIN | USA | Honda Geico |
| 8 | Thomas RAMETTE | France | Suzuki SR 75 World Team |
| 14 | Cole SEELY | USA | Honda HRC Factory |
| 15 | Dean WILSON | Ecosse | Husqvarna Rockstar Factory |
| 16 | Zach OSBORNE | USA | Husqvarna Rockstar Factory |
| 25 | Marvin MUSQUIN | France | KTM Red Bull Factory |
| 36 | RJ HAMPSHIRE | USA | Honda Geico |
| 64 | Khoun-Sith VONGSANA (RES) | France | Yamaha |
| 85 | Cédric SOUBEYRAS | France | Suzuki JPM |
| 121 | Xavier BOOG | France | Honda SR Motoblouz |
| 137 | Adrien ESCOFFIER | France | Husqvarna |
| 225 | Charles LEFRANCOIS (RES) | France | Suzuki |
| 871 | Fabien IZOIRD | France | Honda SR Motoblouz |
| 911 | Jordi TIXIER | France | KTM Bos engineering |
SX2 Wild Cards
| Nr | Rider | Team/Brand |
| --- | --- | --- |
| 69 | Tyler BOWERS | Kawasaki Monster Energy Bud Racing |
| 338 | David HERBRETEAU | KTM VHR |
| 81 | Brian HSU | Kawasaki Monster Energy Bud Racing |
| 66 | Iker LARRANAGA OLANO | SP Husqvarna |
| 520 | Jimmy CLOCHET | Suzuki |
SX Tour SX2 Championship
| Nr | Rider | Team/Brand |
| --- | --- | --- |
| 170 | Yannis IRSUTI | Suzuki JPM |
| 773 | Thomas DO | Honda SR Hexis |
| 14 | Arnaud AUBIN | Suzuki Amexio |
| 420 | Pierre LOZZI | Kawasaki |
| 411 | Nicolas DERCOURT | Yamaha |
| 47 | Dan HOUZET | KTM |
| 888 | Nicolas BARCELO | Yamaha |
| 17 | Gaétan LE HIR | Honda Moto Diffusion |
| 259 | Julien LEBEAU | Yamaha 2B Moraco |
| 975 | Julien ROUSSALY | KTM |
| 784 | Lorenzo CAMPORESE | Honda |
| 622 | Mickaël LAMARQUE | Husqvarna |
| 851 | Clément BRIATTE | Kawasaki |
| 362 | Théo ROPTIN | KTM |
| 626 | Senad HASANIC | Yamaha |
| 225 | Brian MOREAU | Kawasaki Monster Bud Racing |
| 335 | Enzo POLIAS | Husqvarna |
| 11 | Calvin FONVIEILLE | KTM |
| 319 | Jimmy GRAJWODA | KTM |
| 146 | Boris PRUDHOMME | Kawasaki |
Timetable – Saturday
| Saturday | Timing | Duration |
| --- | --- | --- |
| Presentation | 20h00 | 25mn |
| 1/2 finale 1 SX2 | 20h25 | 12mn |
| 1/2 finale 2 SX2 | 20h37 | 12mn |
| Superpole SX1 | 20h49 | 20mn |
| Sprint 1 SX1 | 21h09 | 11mn |
| FMX Show 1 | 21h20 | 12mn |
| Entracte 1 | 21h32 | 12mn |
| Animations | 21h44 | 6mn |
| Repechage SX2 | 21h50 | 7mn |
| Sprint 2 SX1 | 21h57 | 11mn |
| Animation / course | 22h08 | 7mn |
| Finale SX2 | 22h15 | 18mn |
| Entracte 2 | 22h33 | 12mn |
| Pom-Pom / vague | 22h45 | 5mn |
| FMX Show 2 | 22h50 | 15mn |
| Finale SX1 | 23h05 | 25mn |
| FIN | 23h30 | |
Timetable – Sunday
| Sunday | Timing | Duration |
| --- | --- | --- |
| Presentation | 15h00 | 25mn |
| 1/2 finale 1 SX2 | 15h25 | 12mn |
| 1/2 finale 2 SX2 | 15h37 | 12mn |
| Superpole SX1 | 15h49 | 20mn |
| Sprint 1 SX1 | 16h09 | 11mn |
| FMX Show 1 | 16h20 | 12mn |
| Entracte 1 | 16h32 | 12mn |
| Animations | 16h44 | 6mn |
| Repechage SX2 | 16h50 | 7mn |
| Sprint 2 SX1 | 16h57 | 11mn |
| Animation / course | 17h08 | 7mn |
| Finale SX2 | 17h15 | 18mn |
| Entracte 2 | 17h33 | 12mn |
| Pom-Pom / vague | 17h45 | 5mn |
| FMX Show 2 | 17h50 | 15mn |
| Finale SX1 | 18h05 | 25mn |
| FIN | 18h30 | |