Repsol Honda Team rider Toni Bou is on top of the world tonight in Barcelona having claimed yet another world title. The feat marks a 15th consecutive X-Trial title and the 30th of his career as the legend goes from strength to strength.
Toni Bou's magic shone once again tonight in Barcelona. In front of more than 6100 fans and spectators who filled the Olympic Palau Sant Jordi, the Repsol Honda Team rider won convincingly over his rivals to achieve a new career milestone: 15 titles in X-Trial bringing his career total of 30. Toni Bou is the greatest of all time.
Bou, aboard the Montesa Cota 4RT, came out guns blazing in the semi-final to qualify for a final as the newly crowned world champion. In the final, the difficulty of the sections did little to prevent the champion from once again demonstrating his skills as the world's greatest trials rider.
Bou's domination of the world trial scene has now run for fifteen years in a row. As yet nobody has been able to outshine him in this period. During this time Bou has accumulated no less than 194 wins, 69 of them in the indoor competition.
"Luckily, the mistake in section one just after the start made me get into the trial," said Bou. "From then on, I knew that I had a tough heat with Adam in the same group and I had to do really well.
"It was another great night at the Palau Sant Jordi. I am very happy and grateful to everyone who has helped me. We've worked very hard, we've done things very well and that's the only way to do it. We have long since surpassed our limits, we are living a dream and to have reached 30 consecutive titles is a great achievement.
"I also want to congratulate Gabriel Marcelli, because he deserved his second place. He works very hard and is a strong rider. He has been doing really well for quite a while now."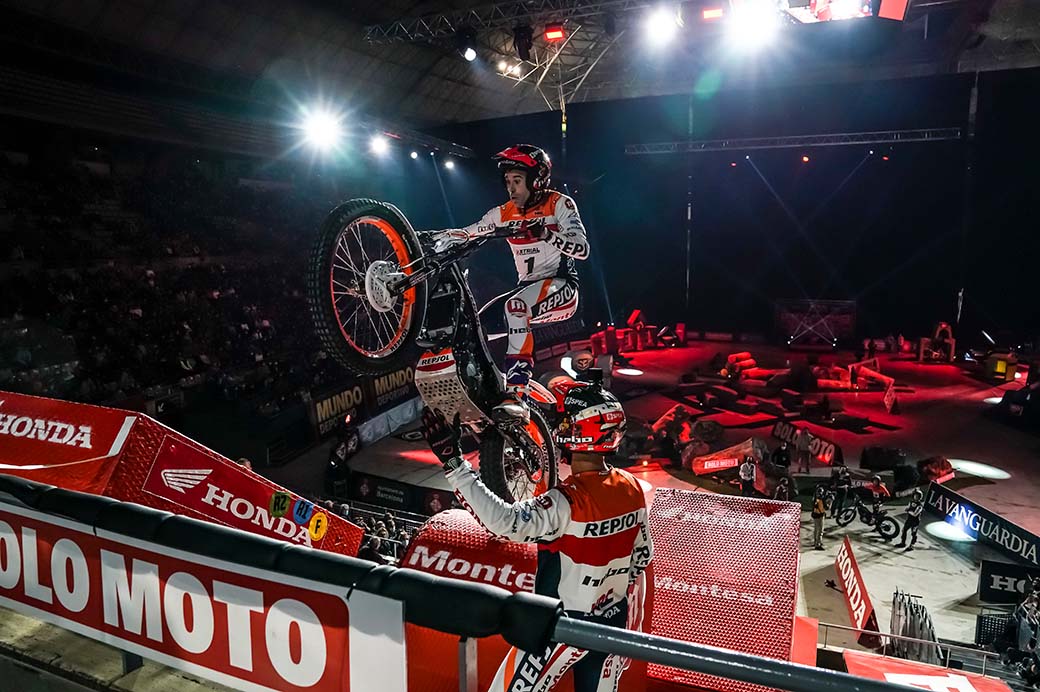 Team manager, Miquel Cirera: "Toni has got us all used to giving his best when the situations are not the easiest and today he has been, once again, extraordinary. To have two Montesas in the final in Barcelona was fantastic. As well as the champion, we have to congratulate the entire team because they have worked really hard over this period. Thanks to each and every one of them."
HRC President, Shinya Wakabayashi: "Today I was able to witness a great show with a final victory from Toni Bou where he won his 30th world title. I want to congratulate him not only on my behalf but also on behalf of the company that I represent. He is a great champion and we are very happy to have him at Honda HRC."
Latest News