One of North Yorkshire's most beautiful seaside towns – that's Whitby if the headline didn't give it away – hosts round seven of the Revo ACU British Motocross Championship Fuelled by Gulf Race Fuels this weekend…
The motocross track with the greatest view in the world hosts round seven of the Revo ACU British Motocross Championship Fuelled by Gulf Race Fuels this weekend (July 30/31) – yep, it's time for Skelder Bank, the circuit that overlooks the seaside town of Whitby and the gothic ruins of its famous abbey, to host the penultimate round of the series.
With just four motos left to run for the MX1 and MX2 pro classes, there are two main storylines. The first is the battle for series supremacy in MX1 between the current champion and series leader Tommy Searle (Crendon Fastrack Honda) and his nemesis Harri Kullas (CAB Screens Crescent Yamaha). The second revolves around whether Conrad Mewse can wrap up the MX2 title a round early or not.
Let's start with the second scenario first as it's far simpler. As things stand, Mewse sits on a 42-point lead in the championship over GRT Impact KTM's James Carpenter meaning he needs to score just eight points more to clinch the title. Based on previous results, a maximum score for Mewse is almost a given while Carpenter's round average is just 31 – it's looking likely that Mewse will take the title.
While Mewse is almost assured of taking the MX2 title, the other medal positions are far from sorted. Okay, Carpenter looks pretty secure in second, Gifting in third is done for the year meaning Tom Grimshaw (Chambers Racing), Jamie Law (Apico Husqvarna) and Kay Karssemakers (Hitachi KTM Fuelled by Milwaukee) all have a good chance of grabbing the bronze, or even silver, medal if the wheels fall off Carpenter's wagon.
As things stand Mewse leads the way on 229 points, Carpenter is on 187, Grimshaw 169, Law 161 and Karssemakers 154. All five still have a mathematical chance of taking the title.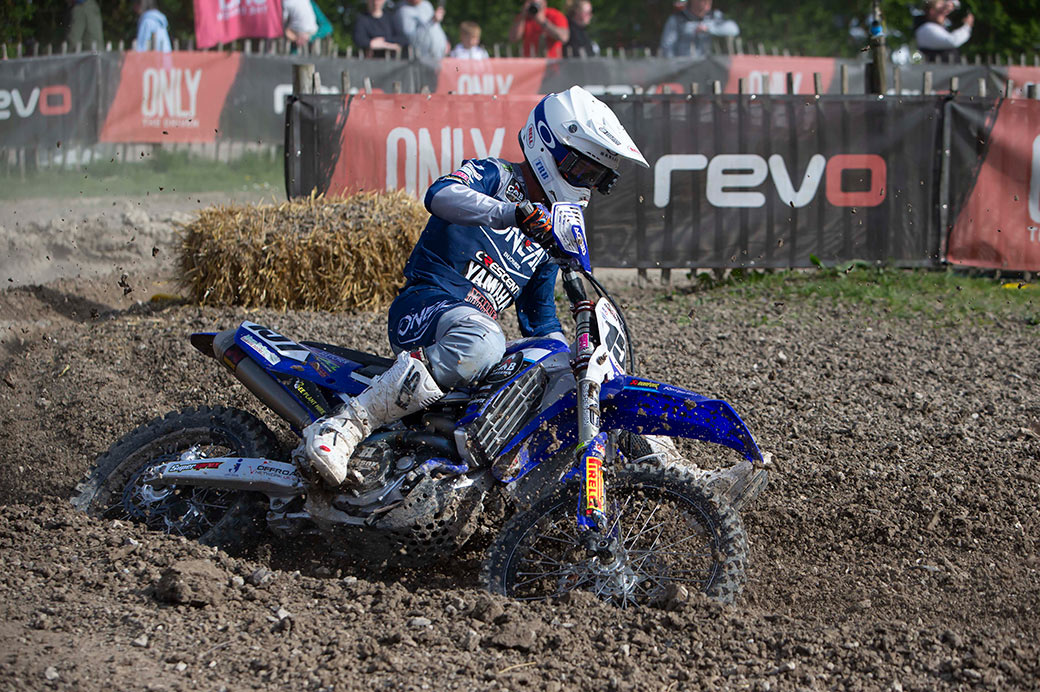 While Searle and Kullas keep on grabbing the headlines, the talent in the MX1 class actually runs way deeper and in all fairness, there are another few riders who could challenge for the win at Whitby.
Shaun Simpson (SS24 KTM) has already won a moto this year and is looking more like his old self after a strange start to the season as he suffered from a mystery illness. Regardless of those issues, Simpson is a fairly safe third in the championship chase, 37 points behind leader Searle – who has a 13-point lead over Kullas – and 20 ahead of Josh Gilbert (SC Sporthomes Husqvarna) who is long overdue a race win.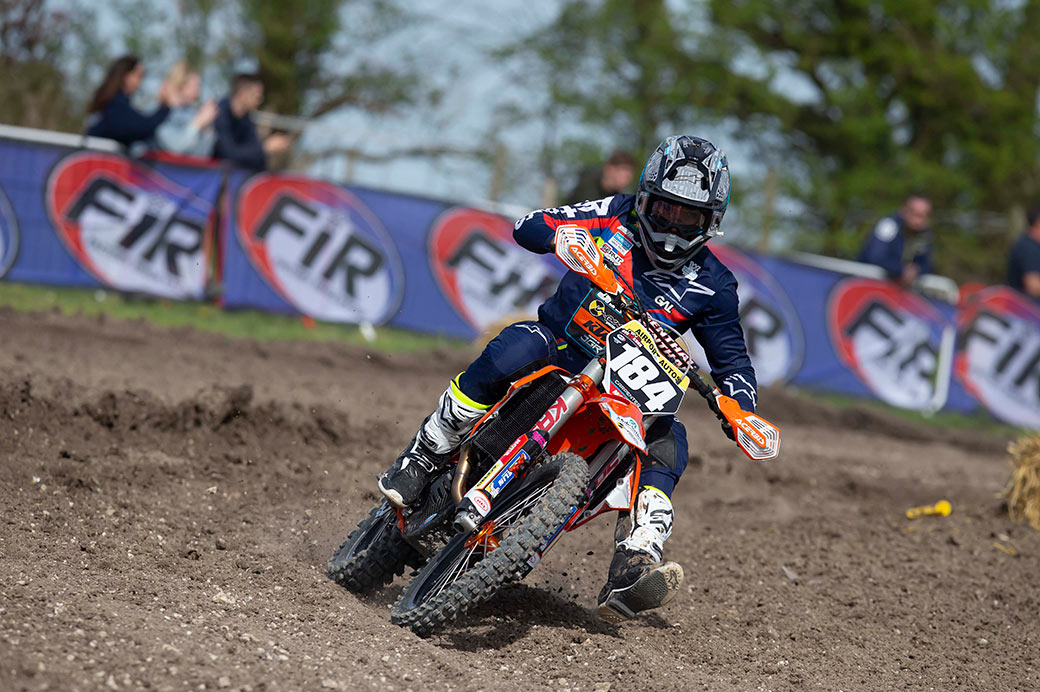 ASA United GASGAS ace John Adamson also seems to be hitting top form and will undoubtedly be somewhere inside the top five. Can he challenge for the win in North Yorkshire? Maybe so but he'll have to beat Searle, Kullas, Simpson and Gilbert first.
The youth classes have an extra event to attend before the year is out so are less near concluding their championships. It's been a strange year for the 250cc boys with numbers far less than in previous years. Regardless, Tyler Westcott has established himself as the top dog and has won 11 out of 14 motos run so far and now sits on a 53-point lead over Team Green's Jak Taylor and his teammate Hudson Roper.
Charlie Heyman has been dominant in the 125cc class and sits on an 81-point lead after five rounds with the exact same win rate as Westcott in the 250 class – 11 out of 14. Cole McCullough sits second in the championship, 14 points ahead of third-placed Ollie Colmer with Joe Brookes a solid fourth.
Those four are bound to be at the sharp end in Whitby with Ben Mustoe, James Barker, Tyla Hooley and possibly Wal Beaney also in the mix. The 125 class always provides some great racing and this year is no different.
Billy Askew, Jake Walker and Josh Vail have been the top three BW85 runners in 2022 and you can expect them to be up at the front this weekend. MGMX teamsters Charlie Richmond and Freddie Gardiner should also be up there as will Ollie Bubb, Jamie Keith and Lucy Barker.
The SW85 division should offer up a tasty scrap as series leader Robbie Daly does his best to beat Hayden Statt, Blake Ward-Clarke, Sonny Rooney and Joel Winstanley-Dawson from stealing his thunder. Alfie Geddes-Green is another rider to keep an eye on and is returning to top form and keen to make up points after suffering a DNF at the previous round at FatCat.
The smallest Revo warriors are the 65cc class who have only raced twice so far this season – at Culham and then in the deep sands of FatCat. Wildcard Brian Gyles – who is back this weekend – took all four wins at FatCat with round one winner Marty Spires extending his championship lead over Harley Marczak and Arthur Moore.
A poor showing in the last race at Doncaster cost Leo Wilson dearly and had he finished where he had in the other three races would be a safe second in the series standings. He'll be looking to bounce back at Whitby and make up for the points he lost.
Riley-Ray Barrow and Cohen Jagielski have also shown good speed this season. Also keep an eye out for #6 Nixon Coppins who is, of course, the son of two-time British champ Josh who convincingly won the MX1 class at Whitby in 2005 and '06. The MX2 winner back in 2006 was Tommy Searle.
The Skelder Bank circuit offers a fairly unique challenge in the British Championship. Carved out of a slope overlooking the North Sea – and Whitby as previously mentioned – the stone walls and sheep scream North Yorkshire but the circuit layout is very American style with lots of different types of jumps, whoops and rhythm sections. The track surface is best described as hardpack soil which is quite unlike anything else on the championship tour.
Viewing at Whitby is excellent and the atmosphere is normally charged with excitement as top-level championship motocross doesn't reach these parts of the country all too often.
The Skelder Bank circuit can be found on the A171 Whitby to Teesside road around three miles north of Whitby and the nearest postcode is YO21 1TN. It's worth noting that from most starting points the quicker – and safer – route is from Guisborough to the north as the most direct roads to the south and west are quite twisty and hilly – some even have restrictions for larger vehicles.
Ticket prices are aligned with the rest of the series – check out rhlactivities.com for more details of them but as a general rule Sunday-only tickets are £25 for adults and £5 for children. Family tickets are available along with inflated weekend passes and discounted Saturday-only tickets for the youth races. Remember, the Pro classes only hit the track on Sunday but Saturday is a great time to grab autographs and a more relaxed chat with the series stars.
Latest News