The 2021 Revo ACU British Motocross Championship Fuelled by Gulf Race Fuels starts its long-awaited season this weekend at Culham in Oxfordshire (May1/2).
If you've already digested our 2021 MXGB season preview and our red-hot picks for the Pro classes, then this rundown of the Youth starlets is the perfect next stop for you moto geeks who like to first out of the gate!
There's plenty to unpack, so let's dig right in…
MXY2
Initially, both the BW85 and MXY2 classes were down to race at all 11 rounds of the Revo ACU British Motocross Championship Fuelled by Gulf Race Fuels but after the most recent MXGP calendar update, which in turn lead to an MXGB update, a round of the MXY2 championship had to be jettisoned as it would have clashed with the EMX125/250 round at Matterley Basin. So, now the MXY2 crew will do battle at 10 of the 11 rounds of the series instead.
The entry list for the MXY2 class is absolutely packed with talent, with a crazy mixture of both 125cc two-stroke and 250cc four-stroke-mounted competitors. Historically, the MXY2 class has always been fairly wide open and consistency in the results is rare as the talent pool is so damn deep. We could well see more of that this season but we expect to see a more regular pattern develop due to the high frequency of events.
The current MXY2 champion is Joel Rizzi and obviously he won't be defending his title as he's now a full-blown MX2 world championship competitor with Livia Lancelot's 114 Motosports team.
Skipping down the 2019 series standings past those who've aged out of the class or moved up into MX2 and the first name we see who is signed up for 2021 is Jack Grayshon. Grayshon came within a whisker of winning an MXY2 moto at Hawkstone Park on his Apico Motohead machine back in 2019 so on that info alone we'd have to say he was a shoo-in for class honours this time around. Not so…
With an influx of BW85 talent and various growth spurts and other new riders, there are a whole heap of new riders to consider. The red-hot tips to watch out for in our opinion are Ollie Colmer, Charlie Heyman, Bailey Johnston, Jack Lindsey, Jude Morris and Sam Atkinson. There's a fairly even split of 125 two-stroke/250 four-stroke talent there which will only add to the excitement.
2021 promises to be a golden year for this division and long may it continue…
See them in action at Culham, Foxhill, Lyng, Canada Heights, Desertmartin, Whitby, Blaxhall, Duns, Landrake.
BW85
The Big Wheel 85 class normally produces some of the best racing in the British Championship which is why we'll be seeing them in action at every single stop of the tour in 2021.
Not the largest line-up of the year, it's not short on quality and it wouldn't be surprising to see some riders who are unbeatable at club level struggling to crack the top-10!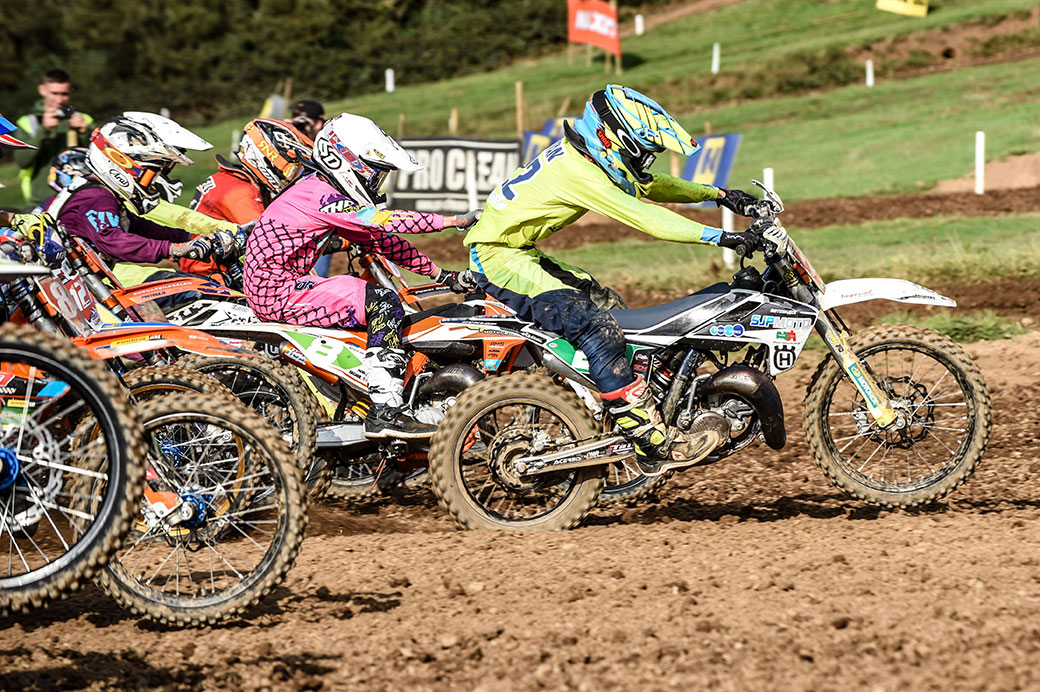 Our hot tips for this class are Tyla Hooley, Ben Mustoe, Billy Askew, Ryan Waggott, Josh Vail, Finley Evans and Wal Beaney – it'll be a long, hard year for these lads but they're bound to put on a top-drawer show at every single round. Oh, almost forgot – the BW85, WMX85 and SW85 classes will all be run under control tyre rules with each racer having to run Bridgestone tyres in a new initiative intended to level the playing field.
See them in action at Culham, Foxhill, Lyng, Canada Heights, Desertmartin, Little Silver, Whitby, Blaxhall, Duns, Landrake.
SW85
The Small Wheel 85s run at seven rounds in 2021 and also know how to put on a good show. The registered riders list tops 30 so far with SJP Husqvarna's Reece Jones the standout star with Brandon Buckley another said to be right on the pace in early-season training sessions. There's also a lot of hype surrounding class rookies Freddie Gardiner and Cole McCullough who'll be nipping across from Ireland for all but one of the rounds.
See them in action at Culham, Foxhill, Canada Heights, Desertmartin, Whitby, Duns, Landrake.
65cc
The smallest of our geared groups is one of the largest. The 65cc class is full and this fast 40 will be appearing at half the rounds of this year's championship. Picking a winner from this lot is not easy but three names that spring out are Joel Winstanley-Dawson, Riley-Ray Barrow and GRT Holeshot KTM's Teddy Merriman who has been shredding up social media all winter. Again, with it being so long since we've really seen any of these kids in action it's super-tough to predict who will finish where but Culham will teach us a lot providing we can see these mini heroes who are often dwarfed by the bumps, ruts and jumps that they're tearing it up.
See them in action at Culham, Little Silver, Whitby, Duns, Landrake.
Autos
Just three rounds will decide who are Auto British Champion is meaning that every moto is going to count for these 50cc-mounted marvels who might find the going tough even on these hand-picked tracks. They spring into life at Little Silver in June before heading to Whitby and then tieing things up at Landrake in September. One to keep an eye on in this class will be Vinnie Anderson whose dad you might have heard of – he's two-time British champ, Brad Anderson. These two will be making history as they become the first father and son to race on the same day in a British Championship round. Look out for mini-Brad – or Vindo – as he's known riding #60 on a Verde KTM just like his old man's.
See them in action at Little Silver, Whitby, Landrake.
2021 ACU British Motocross Championship
| Date | Venue | Classes |
| --- | --- | --- |
| May 1-2 | Culham | 65, 85SW, 85BW, MXY2, MX1/MX2 |
| May 23 | Lyng | 85BW, MXY2, WMX, MX1/MX2 |
| June 6 | Canada Heights | 85SW, 85BW, MXY2, MX1/MX2 |
| June 12-13 | Foxhill | 85SW, 85BW, MXY2, MX1/MX2 |
| June 20 (cancelled) | Desertmartin | 85SW, 85BW, MXY2, MX1/MX2 |
| June 26-27 | Little Silver | Auto, 65, 85SW, 85BW, WMX, WMX85 |
| July 10-11 | Whitby | Auto, 65, 85SW, 85BW, MXY2, WMX, WMX85 |
| Aug 8 | Blaxhall | 85BW, MXY2, MX1/MX2 |
| Aug 28-29 | Duns | 65, 85SW, 85BW, MXY2, MX1/MX2 |
| Sept 11-12 | Landrake | Auto, 65, 85SW, 85BW, MXY2, MX1/MX2, WMX85 |
More MXGB